03.01.2006 Eleventh round summary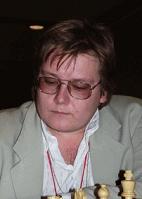 Konstantin Sakaev
Having played a very original opening, Vadim Zvjaginsev got a worse game, draw! Sergey Rublevsky is the new champion of Russia! My congratulations!
Just as we expected, Alexander Khalifman and Vladimir Kramnik made a quick draw. Evgeny Bareev also did not find energy to play for a win in the last round. Alexey Dreev's tiredness and Peter Svidler's disappointment of the tournament led to another uneventful draw.
Alexander Motylev lost without a fight; there was a feeling that he just did had not waken up, although one could rather expect it from Alexander Morozevich.
Only the game Sergey Volkov-Dmitry Jakovenko stands out of the list. Having got an overwhelming position after the opening, Sergey started to make one mistake after another, and after the first control was forced to defend. The very long game ended in a draw - and Dmitry Jakovenko shared the 2nd-3rd places with Alexander Morozevich. Congratulations to both, they also deserve it!
Back to the Superfinal main page