23.12.2005 Fourth Round Summary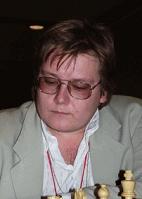 Konstantin Sakaev
Having encountered a novelty, Peter Svidler decided not to break a lance over it, although in my opinion the could have continued the fight (see the commentary).
Vladimir Kramnik's position looked promising, but he failed to fit a key to Vadim Zvjaginsev's defensive setup. However, being in Kramnik's shoes, one could play on.
A topical opening variation occurred in the game Dreev-Jakovenko. Alexey used a good novelty, but Dmitry reacted very well and equalized. Nevertheless, the struggle went on. Both grandmasters sought the subtlest ways of playing for a win. After two consecutive inaccuracies of Alexey, Dmitry obtained an excellent winning chances, but blew it by 36...Re8?! - see the commentary.
Sergey Volkov seems to be collapsing - today he could resign already by the 12th move. The game between Morozevich and Khalifman was a true action movie. A non-standard play started in the opening, then White seemed to have a big advantage, but after a while Black managed to get serious counterchances. Yet, White's extra material finally told.
Evgeny Tomashevsky defended stubbornly in the game against Alexander Motylev, and his resourcefulness was rewarded with half a point.
Back to the Superfinal main page