09.03.2007 Game of the Round (12)

Leko,P - Svidler,P [B90]
XXIV SuperGM Morelia/Linares (12), 2007
1.e4 c5 2.¤f3 d6 3.d4 cxd4 4.¤xd4 ¤f6 5.¤c3 a6 6.Ґe3 e5 7.¤b3 Ґe7 8.f3 Ґe6 9.Јd2 0-0 10.0-0-0 a5 This move, which has been even recently considered faulty in theory, now revives and becomes more and more popular.
11.Јe1 Playing this position as White against Evgeniy Najer during the recent Russia championship, Peter Svidler had chosen 11.Ґb5 here, but in the more recent Bundesliga match during the game against Chinese player Bu Xiangzhi he already employed the continuation 11.Јe1, which occurred also during this game. The idea is to create an unpleasant threat of ¤b3-c5; to parry this Black will have to lose a tempo (which possibly does not strengthen the position). At the same time White considers that the queen on e1 has more prospects than on d2. In my opinion the key idea of 11.Јd2-e1 is to hamper the liberating d6-d5 for Black. Peter Leko has backed off with his queen having another plan in mind, namely vacating a square for his knight's retreat from b3.
11...Јc8
12.a3 A novelty, usually White does not allow further advance of a black pawn, employing a typical for this kind of positions move12.a4
12...a4 13.¤d2 ¤bd7 14.ўb1 ¦d8 A fine preliminary move, which is better than the immediate 14...d5 15.exd5 ¤xd5 16.¤xd5 Ґxd5 17.¤e4 Ґe6 18.Јc3! Јb8 (the endgame looks unpromising for Black) 19.Ґb5 ¦c8 20.Јd3, and white centralization in combination with his control over the d-file is unpleasant.
15.Ґb5 d5 16.exd5 ¤xd5 17.¤xd5 Ґxd5 18.Јe2 It doesn't look bad to activate the knight right away 18.¤e4 Ґc4 19.Ґxc4 Јxc4 20.Јc3 Јe6 21.¦d3, and White's position is a bit more pleasant.
18...Јc7 19.¤e4 Ґe6 20.¤c3?! safer is 20.¤g5 Ґxg5 21.Ґxg5 f6 22.Ґc1 ¤b6 23.f4 Ґc4 24.Ґxc4+ ¤xc4 with rough equality.
20...¤b6! A fine pawn sacrifice, forced as it is.
21.¦xd8+ questionable is 21.Ґxb6?! Јxb6 22.¤xa4 Јc7, and Black has a dangerous initiative similar to that he will have during the game with a little difference: the bishop on the board is light-squared.
21...¦xd8 22.¤xa4 ¤c4 23.Ґxc4 Ґxc4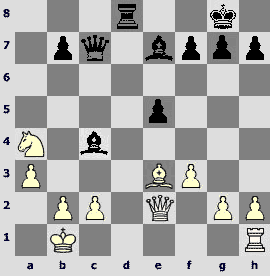 24.Јf2? Now black initiative becomes threatening; the right way is 24.Ґb6! simplifying the play and making Black depart with both bishops 24...Јxb6 (24...Јc6 25.Јxe5 leads to a double-edged position.) 25.Јxc4 Јf2 26.Јf1 Јxf1+ 27.¦xf1 ¦d2 28.¦g1 f5 29.b4 – White should escape due to an extra pawn.
24...Јc6 25.¤b6 On 25.¤c3 a strong reply is 25...b5 threatening to open up the lines.
25...Ґe6 Black has more than adequate compensation for a pawn.
26.Јe2 f5 27.¦e1 Any simplification reduces Black's attacking potential, so more preferable is 27.¦d1
27...Ґf6 28.g3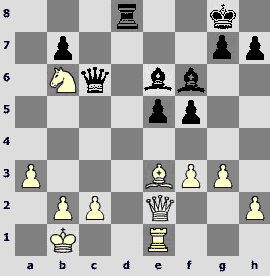 28...h6! It is just the kind of a move that characterizes a high class player. Removing the weakness of the back rank may well prove useful for a king in the future.
29.Ґf2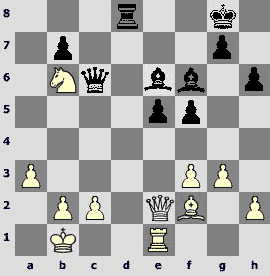 29...e4! 30.fxe4 fxe4 31.a4 now it's too late to exchange the rooks, bad is 31.¦d1 ¦xd1+ 32.Јxd1 Јb5; more stubborn is 31.c4 with an idea of ¤b6-d5. After probable 31...¦d3 32.Јxe4 Јxe4 33.¦xe4 Ґf5 34.¦f4 Ґg6 35.ўc1 Ґg5 36.¤d5 White retains practical chances for a draw.
31...Јd6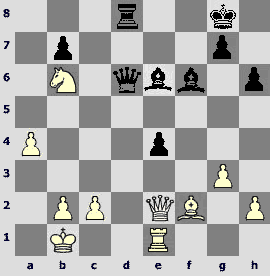 32.c4? Losing right away, but even after the best move 32.c3 White's only hope is that Black wouldn't know where to look first due to the abundance of possibilities.
32...Јb4 33.¤d5 Ґxd5 34.cxd5 ¦xd5 35.Јc2 ¦d2 36.Јc8+ ўf7 0-1
Anand – Aronian
Vishi Anand preferred not to avenge the defeat inflicted on him by Levon in the first part of the tournament, but played deliberately safe in the opening, excluding any risk. Apparently the first place is more important for him. A quick draw and the stakes are on Topalov playing against the only one Vishi's competitor.
Topalov – Carlsen
Veselin would not help Vishi Anand and played in the opening in the way he had never ever dreamt of in his worst nightmare. Acquiring a worse position in a hurry Veselin found a move repetition, which he should consider a blessing.
Leko-Svidler
I am very glad for Peter who has managed to interrupt his prolonged draw series at last, and with a "plus tick" at that. Having offered Peter Leko, who is now in an awful form, a complicated, double-edged game, Peter Svidler played strongly and confidently and won a deserved victory.
Ivanchuk – Morozevich
The game between two most creative players in the tournament progressed respectively, and someone had to yield. This someone was Vassily, who had after the previous defeat lost his playing spirit and self-confidence. On the contrary, Alexander had avoided the move repetition in a complex position and, even running some risks for himself, still won the game.