26.12.2005 Sixth round summary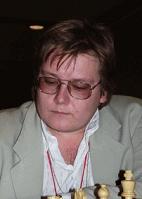 Konstantin Sakaev
The central game of the 6th round (at least for us, Peterburgers) was Svidler-Khalifman, and it rewarded us - the players demonstrated the highest skill on particular stages of the game! In the beginning Peter Svidler turned unprepared to the opening surprise, and a single careless move 15.Ba4 met a brilliant refutation: 15...Bg4!! and 16...f5!! Then it was Peter's turn to display wonders of defense - I am confident that a majority of players would lose the position after 17...Qg6 in about 5 moves. However, having realized the danger of his situation, Peter made a brave decision: 18.Nd4!!, and then cooly transposed into the endgame by 25.Qf7!, after which a very precise play was required of Alexander, who was already confident of the win.
A draw in Tomashevsky-Rublevsky occurred after massive exchanges on the central files, but it was not due to lack of combative spirit of the players - it just happened. Neither Evgeny nor Sergey have reasons to complain.
I have to admit being terribly wrong about Evgeny Bareev, whom I injustly considered as possible outsider of the event, thinking that his tiredness after Khanty Mansiysk will not allow him to play successfully. In the 6th round he confidently held a slightly worse position, and then utilized first an innacuracy and then a blunder of Vladimir Kramnik, leading the game to a victory. It seems like Alexey Dreev is one who is really tired after the World Cup; he gradually lost a better position to Sergey Volkov, who, in turn, had not given up after a poor start, and significantly improved his mood before the free day. Only Alexander Motylev knows what happens with him, and Dmtiry Jakovenko deserves praise, his position among the leaders is just. Alexander Morozevich made Vadim Zvjaginsev suffer for a long time, then both players made inaccuracies in a very complicated endgame, but overall this game can be regarded as one of the most spectacular in the championship.
Back to the Superfinal main page