24.12.2005 Fifth round summary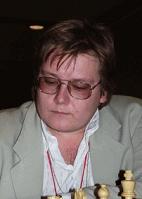 Konstantin Sakaev
I was disappointed by Dmitry Jakovenko's decision - in my opinion, such a young and talented player must be more aggressive regardless of the opponent and tournament situation. There are some rare exceptions, but the Superfinal certainly does not belong to them - it is not a competition for qualifying spots. An excellent opportunity to test his own strength on the highest level is missed.
Unfortunately, Alexander Khalifman lost motivation after his unsuccessful start - another quick draw.
One more opening duel in the Petroff only confirmed the firmness of Black's fortress. Alexander Motylev did not have to lose the even position; the reasons of his weak subsequent play are unclear. Sergey Rublevsky used the chance very professionally - well done.
When Sergey Volkov is out of form, the pieces drop out of his hands, and the result is just sad. I got convinced in this today once again, but Sergey should not despair - his recessions are usually followed by a strong come back.
Having got a big opening advantage, Vadim Zvjaginsev started to play too academic. I disliked the move 24.h4, as Black managed to fix the kingside structure and secure an outpost on f5 for his knight by h5. However, Black still had serious problems, and Evgeny Bareev had to put a great effort to hold.
Despite the loss, Evgeny Tomashevsky played a decent game against Vladimir Kramnik. This game became a high point of the round. After the opening a very complicated and original position emerged. In the end the more experienced fighter took over.
Back to the Superfinal main page