06.03.2007 Game of the Round (10)
Anand,V - Carlsen,M [C96]
Linares (10), 2007

1.e4 e5 2.¤f3 ¤c6 3.Ґb5 a6 4.Ґa4 ¤f6 5.0-0 Ґe7 6.¦e1 b5 7.Ґb3 d6 8.c3 0-0 9.h3 ¤a5 10.Ґc2 c5 11.d4 ¤d7 12.d5 ¤b6 13.¤bd2 g6 14.b4 cxb4 15.cxb4 ¤ac4 16.¤xc4 ¤xc4 17.Ґb3 A novelty, previously there occurred 17.Ґh6 ¦e8 18.Ґb3 Ґd7 19.Јe2 ¤b6 20.¦ac1 ¦c8 21.Ґe3 ¦xc1 22.¦xc1 Јb8 and, having exchanged rooks along the c-file, Black managed to draw, Leko- Mamedyarov, Moscow 2006. Though, as a matter of fact White surely could have made Black's life more difficult in this game.
17...¤b6 An inaccuracy, now White can develop his bishop to e3 and the b6-knight will be under attack. More precise is 17...Ґd7 not fearing an exchange on с4, and after 18.Ґh6 ¦e8 the play boils down to the above-mentioned game.
18.Ґe3 Ґd7 19.¦c1 ¦c8 20.¦xc8 Ґxc8 It is extremely unpleasant to make such a move, now White gets an opportunity to take the c-file under his control.
21.Јc2 Ґd7 22.¦c1 ¤a8 This move has hardly improved Black's mood as well, but there is simply no other way to prevent queen's invasion to c7.
23.Јd2 Јb8 Magnus doesn't take into consideration such a nuance as weakened dark-colored K-side squares. After 23...f6! with the same idea of Јd8-b8 and ¦f8-c8 his position remains defendable.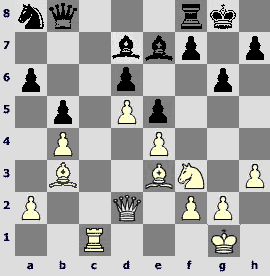 24.Ґg5!! I have no doubt that here Vishi has already planned his 27th move.
24...Ґxg5 And here 24...f6 is already losing because of 25.¤xe5!; White also retains dangerous initiative after 24...Јd8 25.Ґh6 ¦e8 26.¤g5 ¤b6 27.Јe3
25.¤xg5 ¦c8 Black deprives his king of its last defender, the best chance to organize defense is 25...Јe8, although after 26.f4 Јe7 27.¤f3 White keeps his advantage as well.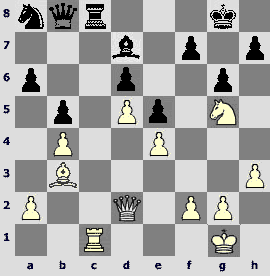 26.¦f1! h6 more stubborn is 26...Јb6, transferring the queen via d8 to defend the K-side, but white arrack should decide the outcome anyway.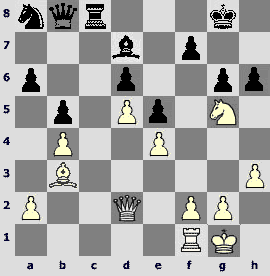 27.¤e6! ўh7 Black takes the line of the least resistance; taking into consideration such a knight on e6 passive defense does not give him a slightest chance to escape. It was worth its while to take the knight 27...fxe6, and although after 28.dxe6 Ґe8 29.Јxh6 ¤b6 30.e7+ ¤c4 31.Јf8+ ўh7 32.f4 White has a decisive attack, there is still some hope for his mistake.
28.f4 Јa7+ 29.ўh2 Ґe8 30.f5 gxf5 31.exf5 f6 32.¦e1 ¤c7 33.¦c1 Ґd7 34.¦c3 e4 35.¦g3 ¤xe6 36.dxe6 Ґe8 37.e7 Ґh5 38.Јxd6 A fine win by Anand! 1-0
Anand-Carlsen
Fate leads the one who aspires and drags the one who fears... This in full measure refers to Magnus Carlsen who has been punished for refusing to play as White in the previous round game against Aronian. I must say that Magnus has been flirting with Fortune long enough as it is, gathering the rich point harvest mainly due to her smiles. Vishi Anand, in spite of his indifferent form (and, paradoxically enough, he also has had all the luck in Morelia; the paradox lies in the fact that Anand in a good form doesn't need no luck at all), had managed to brace himself for this most important game and won a full-weight point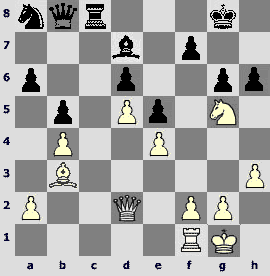 Knight's leap on the square under attack 27. ¤e6!! makes one nod his head with satisfaction. Now Vishi Anand is an obvious favorite for the finish, a one-point margin over his closest pursuer should help him to take the first place.
Ivanchuk-Svidler
A purely GM duel – at first White had a slight edge. Nevertheless Peter Svidler felt quite confident and, having at the right moment carried out a breakthrough in the center, leveled the play. Vassily Ivanchuk was playing as originally as usual, rejecting an opportunity to give a perpetual check, but still could do nothing. The result is a draw.
Aronian – Morozevich
A short but hot combat of two great talents became a crowning glory of the tournament – the opponents have been worth each other's while, and a draw seems a logical result.
Leko – Topalov
This was the game between outsiders staying in the lower part of the table. The predictors are put to shame! Peter Leko, after having acquired a great advantage in the opening, went on to play badly then, and especially unfortunate was his 24th move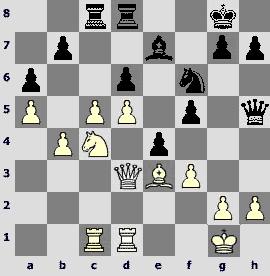 24.fxe4?, the right move is 24.Јf1, presenting the g4-square for black knight. After that he had to pass to the defensive and kept on doing this until the end of the final third time control. As a result there is a draw on move 84.