03.01.2006 Tenth round summary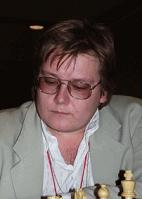 Konstantin Sakaev
Sergey Rublevsky has lost his pace - he tried making things simple playing White against Sergey Volkov, and achieved a desired draw, although his position after the opening looked a bit suspiciously. A draw in the final round ensures his an undisputed first place, but will Vadim Zvjaginsev, who lost today to Evgeny Tomashevsky, agree to it?
The only pursuer of the leader, Dmitry Jakovenko meets Sergey Volkov in the last round. Judging by Dmitry's non-aggressive play against Khalifman, he has nothing against the draw, which also ensures him at least a joint second place, however, there is a big question whether Sergey Volkov is willing to share a point. I think, both last round games of the leaders will present us with serious struggle.
Evgeny Bareev had decent chances to get closer to the leaders - Alexander Motylev sacrificed him material rather optimistically, but the offer was not totally sound. After a lively fight, in which none of the players were able to avoid errors, Evgeny lost the game, and left out the race for the gold. However, he is still able to reach the podium, so I guess his last round encounter with Evgeny Tomashevsky will be quite entertaining. Tomashevsky, who just won his first game, is not going to give up without a fight.
Only the two world champions has nothing to play for. Neither Alexander Khalifman, nor Vladimir Kramnik can call this tournament successful. They are tired and willing to forget this superfinal as bad dream.
One of the most uncompromising games of the 10th round was as usual played by Alexander Morozevich - his encounter with Peter Svidler deserves a special praise. Both were strong and resourceful, in other words, were up to each other - a draw. I wonder if Alexander will be able to find the keys to the Petroff defense, which is often employed by Motylev, or, maybe there will be another opening? We'll see, the game is going to be interesting.
Back to the Superfinal main page