21.12.2005 Third round summary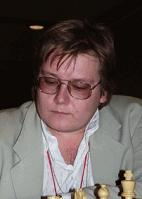 Konstantin Sakaev
Khalifman decided to make a break after the yesterday's blow - the final position from his today's game is known to the theory. An extra free day will do no harm to Evgeny Bareev as well. The game Motylev-Kramnik was only little tenser; the outcome of the game was decided by Vladimir's better opening preparation - a draw.
Let us hope that well-slept Alexander Morozevich will not shake and will show yet his brand of chess in this tournament. And to Dmitry I'd wish to stay tune, as there might be more difficult games for him in this event.
Sergey Volkov failed to recover after his yesterday's loss. In the game with Zvjaginsev he took unusually much time for his moves, and committed a one-move blunder in the end. Thanks to the two fortunate wins Vadim became one of the leaders, however, he will hardly remain on top playing 1.e4 c5 2.Na3??
Peter Svilder played excellently, showing great technical skill - keep it up, Peter! (see the online commentary)

Sergey Rublevsky also played well. First he got an advantage, and then convincingly used a risky raid of Black's queen, without offering Alexey Dreev any saving chances.

So, the early leaders are determined, and let us observe their actions together, not forgetting the most important thing in chess - creativity. I am sure that the participants will please us with more brilliant games.
Back to the Superfinal main page