12.03.2007 Game of the Round (14)
Leko,P - Carlsen,M [E15]
XXIV SuperGM Morelia/Linares (14), 2007

1.d4 ¤f6 2.¤f3 e6 3.c4 b6 4.g3 Ґb4+ 5.Ґd2 Ґxd2+ 6.Јxd2 Ґa6 7.b3 0-0 8.¤c3 d5 9.cxd5 exd5 10.Ґg2 ¦e8 11.¤e5 c5 12.0-0 Ґb7 13.¦fd1 ¤a6 in view of the opponent's reply it's been worth it to prefer 13...Јe7 14.e3 ¤a6 with only a minimal White's advantage
14.Јf4! A very good although well-known move.
14...¤c7 In Tukmakov-Van der Wiel, Rotterdam 1988 there occurred 14...Јc7 15.¤c4! (less strong is 15.¤b5 Јe7) 15...¦ad8 16.¤e3 Јxf4 17.gxf4 ¤c7 and here to the obvious White's advantage leads 18.f5!, depriving black knight of the e6-square.
15.¤g4! That is the key idea of the previous White's move; he disposes of his hanging knight and exchanges the principal defender of the d5-pawn.
15...¤xg4 16.Јxg4 Јf6 17.e3 Black pieces stand very passively, particularly the knight on c7, which should have occupied the f6-square. White has great advantage.
17...¦ad8 18.¦ac1 Јe7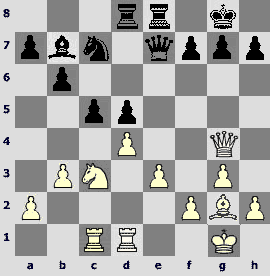 19.dxc5! White begins concrete play, taking advantage exactly of the c7-knight's unfortunate position. Of course, the advantage was retained by unpretentious 19.¦d2 and even by entirely leisurely 19.h4
19...bxc5 20.Јa4 ¦d7 20...a6 21.Јa5 is also to White's advantage
21.¤e4! ¤ow the hanging black pawns fall. Black's idea is clear from the variation 21.Јxa7 ¤e6 followed by d5-d4, and Black has got an adequate compensation for a pawn.
21...d4! The only chance to muddy the waters. 21...¤e6 is not a defense of the pawn. 22.¤xc5 ¤xc5 23.¦xc5, and White wins.
22.exd4 Ґxe4 23.Ґxe4 ¤e6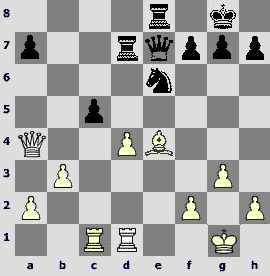 24.d5! Surely not 24.dxc5?! ¦xd1+ 25.¦xd1 ¤xc5 26.Јa3 Јxe4 27.Јxc5 Јe2, and to convert the extra pawn is very difficult
24...¤d4 25.¦e1! Black is better not to give up the e-file. Now the bishop is under a pin, but Peter has calculated that he would get rid of it soon.
25...Јd8 26.ўf1! Most accurate! It won't do to destroy his own king's cover with 26.¦e3? f5 27.Ґd3 ¦xe3 28.fxe3 Јg5, and Black is OK; on 29.¦e1 there is at the very least not bad 29...¤f3+ 30.ўf2 ¤e5 with an adequate compensation for a pawn. More interesting is 26.d6!?, but after 26...¦e5 to calculate all the tactical aspects is not easy, and the pawn still remains under attack.
26...¦de7 27.Ґd3 Јc8 28.g4 White should have foreseen this resource on his 26th move.
28...¦xe1+ 29.¦xe1 ¦f8! The most stubborn defense, it is necessary to avoid simplifications.
30.h3 Јd8 31.Ґe4 Јb6 if 31...f5!? 32.gxf5 a5, then 33.¦e3!, and white king feels safe in the center.
32.Ґg2 g6 entirely bad is 32...f5 33.¦e8 Јh6 34.d6!
33.ўg1! The king goes away from the probable checks.
33...ўg7 34.Јd7 ¦d8 35.Јe7 a5 36.ўh1! ¤b5 Surely the knight on d6 is better than on d4, but major pieces are boxed in at that. Though it is difficult to recommend anything to Black instead.
37.¦e6! ¤d6 38.Јf6+ ўg8 39.¦e7 a4 On 39...Јb4 the issue is decided by 40.¦c7, and on 39...Јb8 there is at the least adequate 40.h4 with a terrible threat of advancing the pawn another two squares.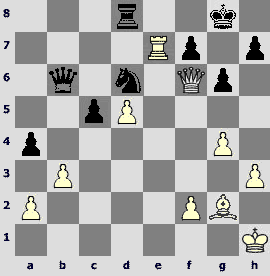 40.bxa4?? With his control move Peter misses the immediate win 40.¦xf7 and makes his task more difficult – he still should reckon with the black c-pawn.
40...c4 41.ўh2! Having collected his thought after the control, Peter finds the strongest move- the king goes away from checks along the first rank, and the threats of taking on f7 and advancing the h-pawn are renewed.
41...Јb8! 42.f4 Јc8! Magnus finds the only way to parry both above-mentioned threats.
43.¦e3 ¦e8? This loses right away; the most stubborn is 43...¦d7 with the intention of activating the queen. White would have to find 44.h4!, or else there would be serious troubles with converting his advantage into a win.
44.¦xe8+ ¤xe8 45.Јc6 The bishop is stronger than the knight in the play on both flanks, and White has an extra material into the bargain.
45...Јxc6 46.dxc6 ўf8 47.ўg3 ўe7 48.ўf2 ўd6 49.ўe3 ўc5 50.g5 ¤c7 51.a3 ¤e6 52.Ґe4 c3 53.f5 In spite of the muffed ending, still it is a fine win by Peter Leko, and his 14th, 15th an 21st move are of a textbook nature. 1-0
Ivanchuk – Anand
Vishy Anand was perfectly comfortable with getting a bit worse position, defending it without any visible effort. Vassily Ivanchuk was exerting pressure and creating problems, but they were all just laughable for Anand. The outcome was a draw. I personally am greatly impressed with Vishy Anand's play in the situation when it has been enough for him not to lose in order to win the tournament: playing as Black against such creative players as Alexander Morozevich and Vassily Ivanchuk he had never ever given a single reason to doubt his "impenetrability". Bravo!
Leko – Carlsen
In theory Magnus could still catch up with a winner, but I could scarcely believe in his another miraculous win somehow. And the miracle failed to happen – Peter played well, gradually increasing his advantage, and though under his customary time pressure he did not act perfectly, missing the opportunity to win the game in one 40th control move, he still retained enough advantage for a victory.
Svidler – Morozevich
On this day Alexander Morozevich didn't have to search out complicated unobvious resources as he had to do in the previous round against Veselin Topalov. Peter himself did it all for him. Figuratively speaking, he upped and resigned. Probably Peter, feeling Alexander's awful emotional enthusiasm and energy against a background of his own accumulated fatigue, just was not able to play normally. Though I must still make a special mention of one of Alexander's moves: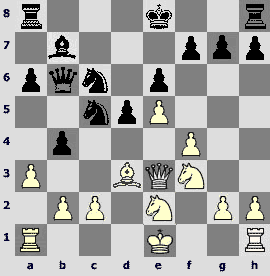 There follows an aggressive move 14...d4!, and the advantage is Black's. Though delivering such hits is child's play for Alexander - well done anyway!
Topalov – Aronian
As it turned out, Veselin can also lose heart. Having checked for conscience's sake Levon's knowledge of the opening variation Topalov cried quits. Apparently it was really hard for him to make himself come on with the situation in the tournament being as it was.
---