13.04.2007 M.Notkin. Long Trunks

(Translator's remark: In order to correctly understand the author's allusions in this article an English-speaking reader should keep in mind that the Russian name for a "Bishop" chess piece means literally "an Elephant".)
As I already hinted during the summing up, most of the games submitted for consideration of our jury have at the moment of preparing this review been already snatched away by the able and prompt hands. Thus, almost everything worth of attention on the Aeroflot Open is commented in Ivan Smykovsky's reviews, and the third place winning game Volokitin – Ganguly has been put under a microscope by Vladimir Belov on the RCF site. Please don't judge me too severely: the following games were not notable for sharp struggle, for the most part the play in them was one-sided. Perhaps, Evgeny Gleizerov who is going to follow me with his commentary of Motylev – Lutz game will make up for the lack of thrill in part.
Let me begin with the only Aeroflot Open game that, if I am not mistaken, is untouched by a commentator's hand.
S.Halkias – E.Shaposhnikov
Aeroflot Open
1.d4 ¤f6 2.c4 e6 3.¤f3 b6 4.¤c3 Ґb4 5.Ґg5 Ґb7 6.¤d2 ¤c6 7.e3 h6 8.Ґh4 ¤e7.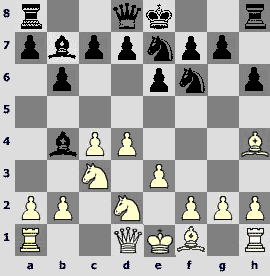 9.Ґxf6. Here the move 9.f3 also occurs, and Shaposhnikov knows it quite well at that. His game against Khalifman in the last year Russian top league in Tomsk continued as follows: 9...c5 (as an alternative it can be suggested 9...¤g6 10.Ґf2 c5 11.a3 cxd4 12.axb4 dxc3 13.bxc3 0-0, Svetushkin – Baklan, Werther 2004) 10.a3 ¤f5 11.Ґf2 cxd4 12.exd4 Ґe7 13.g4 ¤d6 14.¦g1, and White won in tense struggle. Surely Evgeny knew where to strengthen his play, but theoretical discussion went another way.
9...gxf6 10.Јb3. Previously also occurred 10.Јc2.
10...c5. To a complex position with mutual chances leads 10...Ґxc3 11.Јxc3 d6 12.0-0-0 ¦g8 13.d5 exd5 14.Јxf6 Јd7, Gavrilov – Bocharov, Voronezh 2006.
11.0-0-0. White gets nothing by 11.a3 Ґxc3 12.Јxc3 cxd4 13.exd4 d5 14.c5 bxc5 15.Јxc5 Јb6, Azmaiparashvili – Markus, Nova Gorica2006.
11...f5. It is clear that in this particular situation Q-side castling is a more useful move thanа2-а3, but here one can probably consider the captures on с3 and d4 as well. Still Black follows the super final pattern so far.
12.d5 Јb8. In Vitiugov – Tomashevsky from the main Russian 2006 chess event the opponents guided by the strategic reasons agreed to an early draw after 12...¤g6 13.a3 Ґxc3 14.Јxc3 Јc7 15.Ґd3. The idea of the move made in the game is, apparently, to keep the d5-pawn under attack and to cover the d6-square with his queen in case of ¤b5. But black build-up looks quite artificial.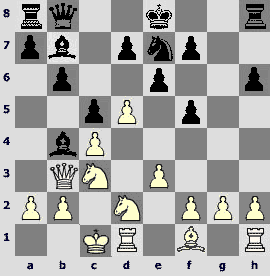 13.f4! ¦g8 14.¤f3. Намечая атаку пешки d7 после ¤e5.
14...Ґxc3. Planning to attack the d7-pawn after ¤e5.
14...Ґxc3. Black position can be held both in case of 14...d6 15.dxe6 fxe6 16.¤b5 ¤c8 and after 14...a6 15.¤a4 (on 15.¤e5 there is a reply 15...f6, and after 15.a3 Ґxc3 16.Јxc3 exd5 Black, in comparison with what has happened in the game, manages to defend the b5-square – even our youngest spectators after having watched the game to the end will realize the importance of this fact easily) 15...Јa7, but the ensuing structures are much too fanciful here.
15.Јxc3 exd5? And this is already a blunder. Black should have prepared the way outfor the king on d7 – after 15...d6 16.Јf6 ¦g6 17.Јh8+ ўd7 there are no immediate dangers for black position; in particular, the tricks with a check on е5 won't work.
16.Јf6 Јc7? In variations 16...¦g6 17.Јh8+ ¦g8 18.Јxh6 and 16...d6 17.Јxh6 Јc7 18.¤g5 the loss of the h6-pawn turns out to be painful. Now on 17.Јxh6 there will follow 17...0-0-0, but White decides correctly that the time for decisive actions has come.
17.¤e5 ¦f8 18.cxd5 ¤xd5. Every other continuation is none the better.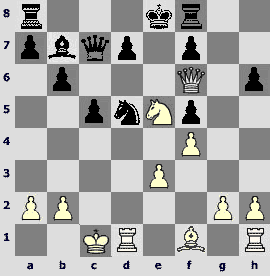 19.¦xd5! Ґxd5 20.Ґb5 Ґe6. On 20...¦d8 there is an elegant epaulette mate in store – 21.¦d1 Ґe6 22.¤g6! fxg6 23.Јxe6#.
21.¦d1 Јd8 22.Јxh6 ¦c8. No good as well is 22...Јe7 23.¦xd7 Ґxd7 24.Ґxd7+ Јxd7 (still worse is 24...ўd8 25.Ґxf5, and Black sooner or later runs into a lethal knight fork – 25...¦c8 26.Ґxc8 ўxc8 27.Јc6+ Јc7 28.Јa8+ Јb8 29.Јxb8+ ўxb8 30.¤d7+) 25.¤xd7 ўxd7 26.Јf6, and Black is not able to stop an avalanche on the K-side. Here mass exchanges on d7 are also possible, but White has a stronger continuation at his disposal.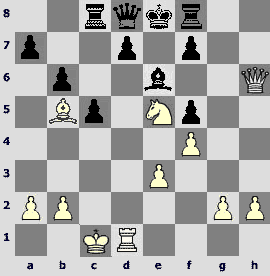 23.g4! Pawns force their way to the e6-bishop.
23...fxg4. Or 23...Јe7 24.gxf5 Ґxf5 25.e4 Ґe6 26.f5.
24.f5 Ґxf5 25.¤c4. A faster way to win is 25.Јf4 Ґe6 26.¤xd7 Ґxd7 27.Јe5+ Јe7 28.Ґxd7+ ўd8 29.Ґc6+.
25...Ґe6 26.¤d6+ ўe7 27.Јh4+ f6 28.Јh7+ ¦f7 [28...Ґf7 29.Ґc4] 29.¤xf7 Јg8. After 29...Ґxf7 30.¦xd7+ Black can resign with clear conscience. An attempt to buy out with a piece is refuted by a nice "geometry".
30.Јe4! d5. Or 30...ўxf7 31.¦xd7+ Ґxd7 32.Ґc4+, and the sought-for position arises a move earlier.
31.¦xd5 ўxf7 32.¦d7+ ўf8 33.Ґc4!? Rough 33.¦xa7 is quite enough, but the bishop move is much finer.
33...¦e8 34.Јf4. The whole bunch of checks threatens – from d6, f6, h6. Black resigned.
In the following game both sides strived for diversions far behind the enemy lines. White play turned out to be much more purposeful.
P.Eljanov – А.Naiditsch
Bundesliga
1.d4 ¤f6 2.c4 e6 3.¤c3 Ґb4 4.Јc2 0-0 5.a3 Ґxc3+ 6.Јxc3 b6 7.Ґg5 Ґb7 8.e3 d6 9.¤e2 ¤bd7 10.Јc2. Many a valuable for Mother Theory game has been played in the variation with 10.Јd3.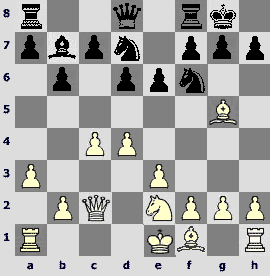 10...c5. Against Bareev during the World Cup in Khanty-Mansiysk Naiditsch had played 10...h6 11.Ґh4 c5 12.¦d1 cxd4, and White captured with the knight – 13.¤xd4 Јe7 14.¤b5 d5 15.cxd5 Ґxd5 16.¤c7 ¦ac8 17.¤xd5 exd5 18.Јb1. Black had managed to get rid of the isolated pawn soon and to obtain a practically equal position, but still lost in the drawn pawn endgame.
11.¦d1. One of the first games on this subject developed interestingly – 11.¤c3 cxd4 12.exd4 Јc7 13.Ґd3 ¦ac8 14.0-0 Ґa6 15.Јa4 Ґxc4 16.¤b5 Ґxb5 17.Ґxb5 h6 18.Ґf4 ¤b8 19.¦ac1 Јe7 with compensation for a pawn, Ivanchuk – Topalov, Linares 1999.
11...Јe7. Other plans have also been employed – 11...Јc7 12.¤c3 a6 13.d5 exd5 14.cxd5 b5 I. Sokolov – Ponomariov, Wijk aan Zee 2005; 11...¦c8 12.¤c3 cxd4 13.¦xd4 ¦c5 14.Ґh4 Јa8 15.Ґe2, Bareev – Efimenko, Turin 2006.
12.¤c3 h6 13.Ґh4 cxd4. Here it is already not advantageous to allow Benoni structure– 13...¦ac8?! 14.d5 exd5 15.cxd5 a6 16.a4 ¤e5 17.Ґe2 ¤g6 18.Ґg3 ¦fe8 19.0-0 with obvious white advantage, Bu Xiangzhi – Ghaem Maghami, Doha 2006.
14.¦xd4 ¦fd8.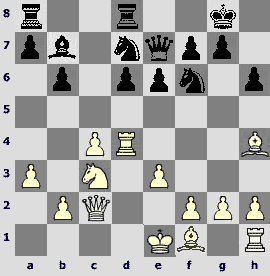 15.f3. During the last year France championship Fressinet in his game against Fontaine had included 15.Јd1 and after 15...¤c5 played 16.f3 (apparently after becoming certain that 16.b4 g5 17.Ґg3 ¤ce4 does not promise him any advantage). Then there followed 16...g5 17.Ґf2 d5 18.¦d2 (here on 18.b4 there is a move 18...e5! 19.¦d2 d4 with a deadly idea of 20.exd4 exd4+ 21.Јe2 dxc3! 22.Јxe7 cxd2+ 23.ўd1 ¤fe4! 24.fxe4 ¤xe4, and Black wins) 18...dxc4 19.Ґxc4 ¦xd2 20.Јxd2 ¦d8 with acceptable position for Black.
15...¤f8 16.Ґe2 ¤g6 17.Ґf2 d5. After 17...e5 18.¦d1 e4 19.f4 the structure arises, in which I have been impressed greatly by Dreev's victory over Razuvaev in 1998 Russia championship. White has completely surrendered the c-file to his opponent, but his bishops enter the game via the K-side after g2-g4-g5 with decisive effect. Nevertheless, the position is objectively complicated, and it will be an overstatement to speak about white advantage. Arkadij comes to recognize a necessity to advance his pawn to e4 in the long run, but probably it's been better for him to do this immediately.
18.cxd5 ¤xd5 19.¤xd5 Ґxd5 20.0-0 e5 21.¦dd1 Јe6.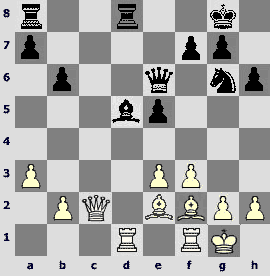 22.Ґa6. The leitmotif of this game sounds softly for the first time. The bishop leaves its own forces in order to fianchetto safely beside its king in the game finale. But this happy end is still a long way off.
22...Ґb3. Here it is also worth it to prefer 22...e4 23.f4 ¤e7, after which White would have continued 24.¦c1 with the following Ґe1-c3 (immediate 24.Ґe1 will hit on 24...¤f5 25.Јe2 b5! 26.Ґxb5 a6, and White is in trouble).
23.¦xd8+ ¦xd8 24.Јc3. Hampering the opponent's activation – 24.Јc7 ¦d2 – for the time being.
24...Ґa4 25.¦c1 e4 26.f4 b5 27.Јa5.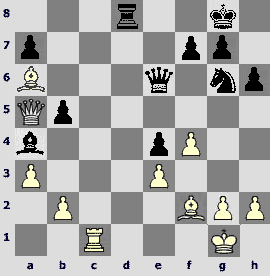 Another white piece starts pawing against the wall.
27...¦d5? Strongeris 27...¦d3. By 28.Ґb7 ўh7 29.Јxa7 Јd7 Black wins a tempo in comparison with the actual game, and in case of light-squared bishops exchange 28.Ґxb5 Ґxb5 29.Јxb5 he can count on counterplay due to passivity of dark-squared one.
28.Ґb7! ¦d3 29.Јxa7. White pieces have occupied the left upper corner. The e4-pawn is unexpectedly gets under massive attack. On 29...Јb3 30.¦e1 f5 there is an extremely unpleasant answer 31.g4! In the variation 30...Јxb2 31.Ґxe4 ¦xa3 (if 31...¦d2, then it is 32.Ґd5! all the same – the bishop is defended by the check from а8) 32.Ґd5 White, taking advantage of the enemy pieces being away, develops the attack against the king.
29...ўh7 30.h3. Strong as well is 30.Јc5, and there is no adequate defense from the threat of f4-f5, for instance, 30...f5 (30...¤e7 31.f5!) 31.Ґc8 Јb3 32.Ґe1 with bishop's transfer to с3 (this is more precise than 32.Ґxf5 ¦d5 33.Ґxg6+ ўxg6 34.Јc6+ ўh7).
30...f5.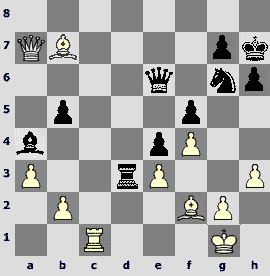 31.Ґc8! The point of the attack is immediately transferred on the pawn that has come to help its friend. Black position becomes lost.
31...Јf6 32.¦c7. The rook is imbued with general feeling – it is washed up at home.
32...¦d1+ 33.ўh2 ¦f1. Black has also managed to get to another's larder, but his loot will be much poorer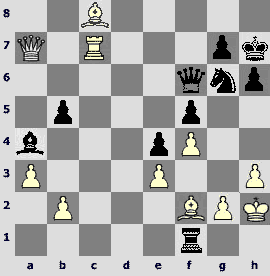 34.Ґxf5! The bishop of passage drifts home.
34...¦xf2 35.Ґxe4 ¦d2. In order on 36.¦c6 to reply 36...¦d6. But 36.Јa8! with a threat of ¦c8 would have finished the struggle quickly. Pavel gives his opponent a chance before the control.
36.¦f7 Јxb2 37.Јb6 ¦xg2+ (the only move) 38.Ґxg2.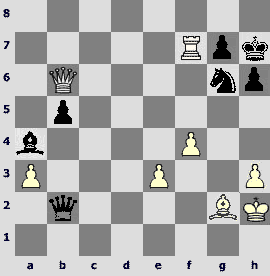 38...¤h4. The attack on the bishop that has returned home could have been mounted more subtly – 38...Ґb3! (with the threats of Ґxf7 and Ґd5) 39.Јxb5! (on 39.¦d7 therefollowsacraftyinterception – 39...Ґd5! 40.¦xd5 ¤h4, and White has to transpose into an equal queen endgame) 39...¤h4 40.Јd3+ ўg8 41.Јd8+ ўxf7 42.Јxh4 Јxa3, and there is still a technical work on converting the extra pawn ahead. But now White defends, once again from afar, his king and organizes the last wave of the attack against the enemy one.
39.Јc6 Ґc2 40.¦f8 Ґd3 41.Јa8 ¤g6 42.¦e 8 Ґf1 43.f5. Blackresigned.
In the final example both white bishops turn intricate somersaults. Polish trainer Bartosz Socko introduces his talented pets.
B.Socko – R.Wojtaszek
Championship of Poland
1.e4 c6 2.d4 d5 3.e5 Ґf5 4.¤f3 e6 5.Ґe2 ¤d7 6.0-0 ¤e7 7.b3. More frequently occurred 7.¤h4.
7...c5 8.c3. This game is of no burning theoretical interest, so I would say only that White has previously associated his play either with immediate 8.c4 or with preparing this advance.
8...¤c6 9.Ґe3 ¦c8.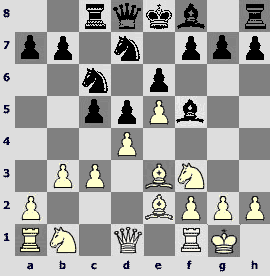 10.a3 cxd4 11.cxd4 Ґe7 12.Ґd3 Ґg4. There is a French pawn chain on the board, so why not exchange a light-squared bishop? After 12...Ґxd3 13.Јxd3 0-0 Black has no reason for complaint. Apparently he considers that, after having solved the problem of bishop, he can now opt for more.
13.¤bd2 Ґh5 14.b4 0-0 15.Јb1 h6. After having rejected the exchange on the 12th move 15...Ґg6 would have looked illogical.
16.h3 f5 17.exf6 ¦xf6. Another capture also looks not bad – 17...Ґxf6, where after 18.b5 Black has a choice between 18...¤a5 and 18...¤e7, for example, 19.g4 Ґf7 20.h4 e5 21.g5 e4.
18.b5 ¤a5 19.¤e5. With threatening intention of playing f2-f4 and g2-g4.
19...¤xe5 20.dxe5 ¦f8.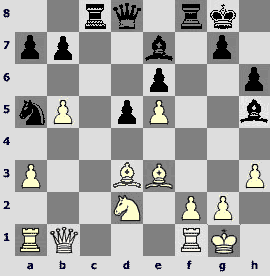 21.Ґg6. The show begins.
21...Ґe2. Black bishops' trainer tries to be in line with his opponent, but he fails to be up to par for a long time. A fine move in the game is forced, as after 21...Ґxg6 22.Јxg6 Black cannot defend both the е6 and h6-pawns at once.
22.¦e1 d4? Black should have calmly retreated – 22...Ґc4, on which White would most probably reply 23.Ґh5 with direct threat of a blow on h6 (for instance, 23...d4 24.Ґxh6 gxh6 25.Јg6+ ўh8 26.Јxh6+ ўg8 27.¦e4 with a win) and with an elegant positional idea of regrouping Јg6 + Ґg4. But Black can defend himself by way of 23...ўh8! 24.Јg6 (incorrect is 24.Ґxh6 gxh6 25.Јg6 Ґg5) 24...Ґxb5 25.Ґxh6 ¦g8! planning Ґe8. Now the second white bishop crushes into black sultan's residence.
23.Ґxh6! Who needs winning a pawn? The more so because after 23.Ґxd4 Јxd4 24.¦xe2 ¦c5 (also possible is 24...Ґc5 with an idea of 25.¤f3?! ¦xf3 26.gxf3 Јf4) 25.¤f3 ¦xf3 26.gxf3 ¤b3 27.Јxb3 Јxa1+ 28.ўg2 ¦xe5 Black has adequate counterplay.
23...d3. The lesser of evils is 23...gxh6 24.¦xe2, but even then there is no doubt that this IS an evil.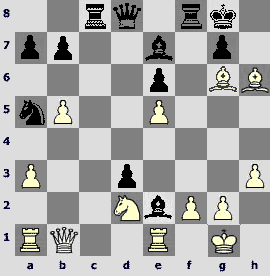 And now by the trainer's whistle – up and at 'em!
24.¦xe2! dxe2 25.Ґh7+ ўh8 26.Ґxg7+! ўxg7 27.Јg6+ ўh8 28.Ґg8! Trajectories described by white bishops in this game are as follows: f1-e2-d3-g6-h7-g8 и c1-e3-h6-g7. Composers would probably call this Excelsior.
28...¦f7 29.Јxf7. Only not 29.Ґxf7? Јxd2!,and in the absence of a mate on h6 White has to give a perpetual check on h5.
29...Јd3. Also hopeless is 29...Јxg8 30.Јxe7.
30.Јxe7 ¦xg8 31.Јh4+ ўg7 32.Јg4+ ўh8 33.Јf4 ¤b3?! This move bears no big idea, as black queen is tied up with defense of the h6-square. But there is nothing better in sight already.
34.¤xb3 Јd1+ 35.ўh2 ¦g6 36.¦c1!? e1Ј. The only consolation is to have two queens for a second.
37.Јf8+. Black resigned.
Do not stand under a boom! Or, rather, under an elephant's trunk. Having given this invaluable piece of advice I bid farewell to my dear readers.
---