02.11.2005 NIGHT WATCH №13: NEW LIFE ON NEW POST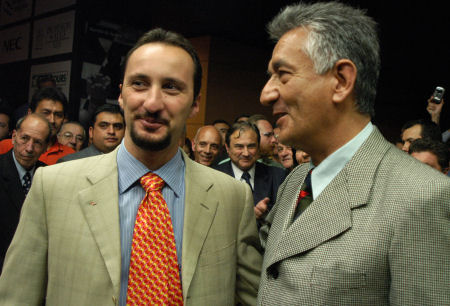 A necessity of concentrated attention is always accompanied by an irresistible wish to take a break
A corollary to Murphy's law
I did not fulfill my watch till the end: during the Kasimdzhanov-Topalov endgame my computer disconnected from the Internet at the most interesting moment. Yet, I had little doubts concerning the result, in spite of mutual sharpness of play. After Mark Glukhovsky had predicted correctly four results out of four, Ilya Gorodetsky had no other choice than to follow the example of his colleague by KasparovChess. By that moment, Ilya already guessed right three draws out of four, so the result of Topalov's game was predetermined.
So, «Night Watch» congratulates Veselin Topalov with winning the title of the FIDE world champion-2005! No other participant of the San Luis tournament had shown champion's play, and Topalov's hurricane start became a strong psychological trial for the proposed favorite Anand. It is hard to remember another example of Vishy attacking his opponent with Black regardless of the position demands (I am talking about the Kasimdzhanov-Anand game). Such a convulsive attempt to maintain the suggested tempo could not have a happy end...
During the championship, Topalov won five games in a row. This amazing achievement (that happened for the third time in chess world championships, by the way) tells about Veselin's total superiority over the opponents in several components. «Energy» and «fighting skills» are not enough here. In the second half of the distance only Topalov himself could stop him really, but the Bulgarian grandmaster had enough self-control not to pay attention to the blare of trumpets in his ears, except for the game with Morozevich maybe. We wish Veselin to have a good rest and to write a good book! Unfortunately, the title «My great predecessors» was used already...
In a recent talk with the Ukrainian grandmaster, member of national team Alexander Moiseenko I asked whether Topalov's splash was only a splash or a qualitative leap? He gave an answer without hesitation: it was a qualitative leap!
Here I started thinking. Veselin's games did not give an idea that he jumped to the new level of understanding chess and could win against his 2700+ club colleagues on nuances. He did not become Kasparov in the opening or Ivanchuk in the middlegame. But he really began playing very strong!
What can help one to become that stronger at 30? Here I recalled the fragment of Mark Dvoretsky's lections, which once had had a great impression on me. Roughly speaking, practical strength of a chess player is product of his chess skill and personal, sporting qualities. In order to achieve substantial progress, using the time with maximum effectiveness, chess genius of Einstein caliber with "glass jaw" should work on fighting skills instead of polishing the openings. By the way, perfect sportsman with middling (for a strong grandmaster) level of understanding sometimes achieves better practical results than an outstanding chess talent lacking certain non-chess qualities. For example one can look at Nakamura's result in Karabakh.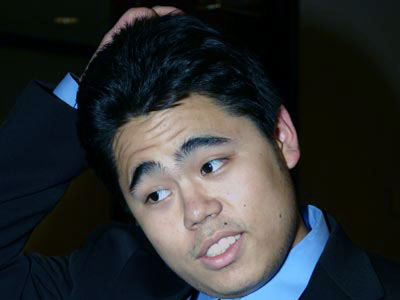 Prior to the supertournament that was held parallel to San Luis, I had a curious talk with Evgeny Atarov. Zhenya has a radical view on Nikamura's chess present, or, simply speaking, does not damn for him. He generally does not like undisguised spielers – players who are first and foremost practical. That is why he supposed that being for the first time in such respectable company, Nakamura is doomed to fail and get -4. I was more objective in assessing the chances of the USA champion, as it seemed to me, and thought he would get -1. Probably, only Gorodetsky and Glukhovsky knew that Nakamura would surpass Ivanchuk, Dreev, and Bologan. But their forecasting skills (prophetic talent, luck) do not serve chess any more...
And so, let us come back to Topalov. Everyone knew that he can win against anyone – Kasparov, Anand, Leko... However, earlier Veselin was always subjected to failures and blunders. It was his business card to some degree and it prevented many experts from thinking seriously about the Bulgarian's claims for the throne. This is why instead of stubborn strengthening the Najdorf as Black or search for White's advantage in the Queen's Indian defense, Topalov worked thoroughly on his non-chess weakness, namely, concentration of attention. I do not know, maybe he played thimblerig a lot, or meditated, but it is obvious that he managed to overcome this deficiency to some degree, and it influenced general sporting results (speaking seriously, attention correction is held on the basis of proven methods and is rather widely used in special preparation). It is almost impossible to extirpate an illness, especially in mature age, but Veselin's blunders that happened during technically won endings with Anand and Morozevich, did not influence his overall result...
During the last rounds, a wish to take a break mentioned in the epigraph influenced both players and journalists. No Anand-Morozevich game annotations contained the analysis of quiet continuation Rf3 instead of the bishop sacrifice on h7 that turned out to be hasty, although during the broadcasting it seemed that Rf3 was exactly where main troubles waited for Black. It is for the second time Anand makes a piece sacrifice, having ascertained that he has a perpetual check, which he soon has to perform on board in the absence of better possibilities. And I still would like to thank the players. They entertained the public well.
We can see several plots in the WCA concluding round. Anand and Svidler struggle for the second place. In principle, Topalov can fight for the record rating, but I think he is far from such a fundamental reprogramming... The Bulgarian has many tournaments before him.
Yes, the champion is defined already, but shall we stay on a stand and support our players! As ancient Japanese said, «The one who goes away before it ends, goes away without his face».
«Night Watch» contained the forecasts for (almost0 every round made by chess experts. Three of them made headlines, correctly guessing all four games of the round! Maybe, it would be right to count the tie-break according to the version of some betting company and find the only champion this way. If someone is not too lazy, write please who is the best WCA oracle to misha@e3e5.com. And I have no more strength to struggle with such a serious law as Murphy's...
So, here are the results
4 out of 4: Olena Boitsun (round 1), Mark Glukhovsky (round 11), Ilya Gorodetsky (round 13);
3 out of 4: Nana Dzagnidze (round 6), Jolanta Zawadzka (round 10);
2 out of 4: Yochanan Afek (round 2), Anna Zatonskikh (3 тур), Denis Bilunov (round 7), Maia Lomineishvili (round 9);
1 out of 4: Julia Kochetkova (round 5), Evgeny Atarov (round 12);
0 out of 4: Petr Kiriakov (round 4).
The encounter of women's intuition and men's logic has basically ended in a draw: the difference is within the boundaries of statistical accuracy. However, ladies scored more points: 15:13! So, they win on tie-break!