20.10.2005 PEARL OF THE DAY №14: DON PERLO FROM ARGENTINA

The end of the game. Model kit is constructed, all the hopscotch squares are filled. The participants only have to get the prizes. Pursuers did not manage to catch up with the leader. Chess world congratulates Veselin Topalov, the new champion, and starts discussing the probability of his match with Vladimir Kramnik taking place, in hope that long-suffering reunification process will be finalized. And I sit and think whether I have to go on playing with Cortazar's books names, or turn to Borges, who has a story named «Funes, the Memorious» (the championship was held in the hotel named «Portero de los Funes»), and maybe use «The Garden of Forking Paths» following Sergey Shipov. I come to the conclusion that there is no use to do so, because such kidding is good only within reasonable limits, and what is more important I have neither enough strength nor time for it.
...Once upon a time my father's friend visited us and brought his son. It was shortly after the New Year, and the child, after having shared his numerous joys with us, asked:
– Uncle Gena, and what did Father Frost bring you?
– Oh, Borya, losses is the only thing he brings me, – father said without concealing the sorrowful truth.
– Oh, and show it to me please! – a child asked.
And I think what the world chess championship in Argentina (also called WCA by Misha Savinov) has brought me. First of all I think about not getting enough sleep, about my red eyes and backaches, and only then – about the so-called happiness of involvement. Sergey Shipov is extremely right – we have to thank the Argentinean organizers, but henceforward held the championships only in Australia – it will bring us the games in more favorable time. But do not take my laments too serious. One can renounce a healthy life-style for a couple of weeks to watch the birth of the new world champion.
During the last playing night, grandmasters presented the chess fans with two more full-blooded encounters, but I would like to proceed without delay to the best fragments of the tournament, and because as I am a self-respectful journalist, I should reserve the concluding review for discussing general tendencies of chess development in light of the changes brought by this competition. A cultured pretender Ilya Odessky has already made sort of serious comments on this website, so I would also like to do it.
The stupid roll-call scheme is sweeter and more understandable than the others, so I will just call out the participants according to their places, give brief characteristics and assess their contribution to the WCA creative contents.
TOPALOV. He is the perfection in every respect, except for a couple of missed goals and the first round opening amnesty. Veselin had purposeful many-handed preparation and he is able to keep the voltmeter finger in the required position. We also should mention his extraordinary persistence in finding the resources – on different game stages and board sections.
The question "Why should we love our new king?" can be answered with the following fragments.
V.TOPALOV-M.ADAMS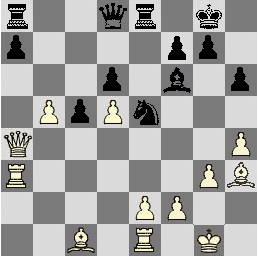 22.h5! It turned out that had nothing to oppose nothing to the subsequent White's forces regrouping. The finishing blow 35.¦c7! is very good.
22...¦e7 23.Ґf4 ¦b8 24.Ґf5 Јe8 25.Ґc2 Јd7 26.Јe4 ¤g6 27.Јd3 c4 28.Јxc4 ¤xf4 29.Јxf4 ¦e5 30.Јf3 Јh3 31.¦xa7 ¦xh5 32.e3 Јh2+ 33.ўf1 Јh3+ 34.ўe2 ¦e5 35.¦c7 ¦c8 36.Ґf5 ¦xf5 37.¦xc8+ ўh7 38.¦h1. 1–0
P.SVIDLER-V.TOPALOV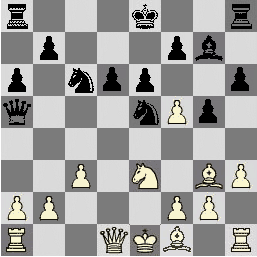 15...¤f3+!
Careful study of Topalov's second's games brought moral advantage that allowed saving more strength for time trouble arm wrestling.
R.KASIMDZHANOV-V.TOPALOV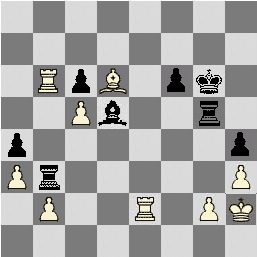 From defense to counterattack.
34...¦e3 35.¦d2 ¦eg3!
Considering exchange sacrifice that saves from pains and suffers see also ADAMS
V.TOPALOV-R.KASIMDZHANOV
Rook endings can be won!
68.ўd4 ¦a4+ 69.ўe3 ¦a3+ 70.ўf2 ¦a5 71.ўg3 ¦xe5 72.ўg4 ¦xe4+ 73.ўh5. 1–0
Mistakes in the won positions against Anand and Morozevich complete the image of a giant that is not devoid of human weaknesses.
ANAND is a great chess player, whose numerous skills do not include patience and an ability to play under great tension, pressure and other physical influences. It is proved by both lost games and draws with Topalov (round 2) and Morozevich, though I would like to thank him for the latter one.
V.ANAND-A.MOROZEVICH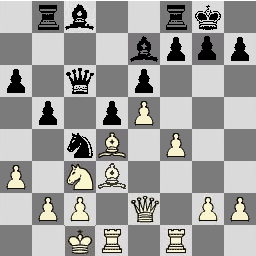 19.Ґxh7+ ўxh7 20.Јh5+ ўg8 21.¦d3 f5 22.¦h3 Ґc5 23.¦ff3 Ґxd4 24.¦fg3 ¦b7 25.Јh7+ ўf7 26.Јxg7+ ўe8 27.Јxf8+. Drawn.
In round 3 Vishy also made many sacrifices, but reserved enough pieces to imprison the opponent's king. He also reminded that he can produce opening ideas and not only use other's ones.
V.ANAND-M.ADAMS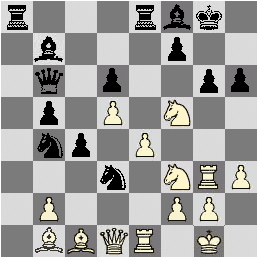 23.Јd2! Ґxd5 24.¤xh6+ Ґxh6 25.Јxh6 Јxf2+ 26.ўh2 ¤xe1 27.¤h4 ¤ed3 28.¤xg6 Јxg3+ 29.ўxg3 fxg6 30.Јxg6+ ўf8 31.Јf6+ ўg8 32.Ґh6. 1–0
SVIDLER gets +3 without bluff and sport malice. Only the real classic can do something like that. If there were more Hungarians and Russians in the tournament, Petya would have got the first prize.
P.SVIDLER-J.POLGAR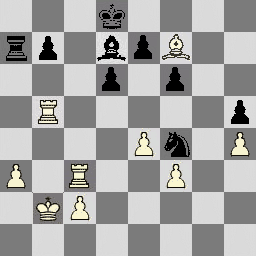 Greed damages the technique.
41.¦xh5 ¤xh5 42.Ґxh5, and White won.
M.ADAMS-P.SVIDLER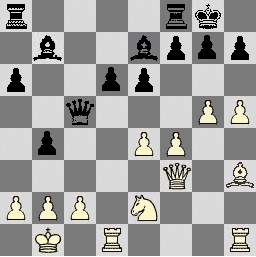 Moving g- and h-pawns in such positions was always considered to be White's prerogative.
22...h6! It is possibly the most paradoxical move of the championship – if we take only strong ones into consideration.
23.gxh6 gxh6, and Black got the initiative to the spectators' surprise.
MOROZEVICH revealed fantastic resourcefulness in defending difficult positions and insufficient inventiveness in attacking the easy ones.
J.POLGAR-A.MOROZEVICH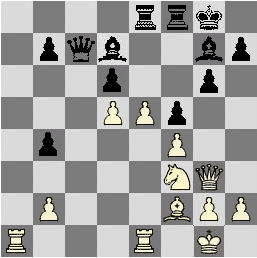 Morozevich's brand outflanking – and Black's position changes from dubious into almost winning one.
28...Јc4 29.¦ad1 Ґa4 30.¦d2 Ґc2 31.h4 Ґe4 32.¦d4 Јb3 33.¤g5 Јxb2 34.¤xe4 fxe4 35.¦dxe4 dxe5 36.Јd3 Јc3 37.Јb5 b3 38.¦4e3 Јc2 39.¦xb3 ¦d8 40.Ґb6 Јd2 41.¦bb1 ¦xd5. A draw.
V.TOPALOV-A.MOROZEVICH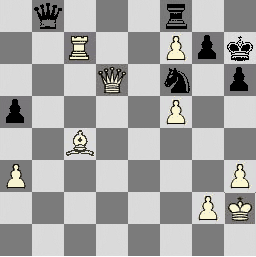 Apotheosis of Alexander's defense marvels in the tournament.
43...¤e4 44.Јe5 ¤d2 45.Ґa2 Јb6 46.¦c2 Јf2 47.¦xd2 Јxd2, and Black feels himself much better with extra exchange.
Minor pieces are more suitable for successful attack.
A.MOROZEVICH-V.ANAND
One has to meets the opponent's wishes – 21.¦f2 ¤e4 22.¦xg2 hxg2 23.ўxg2, to get such a prize in the end –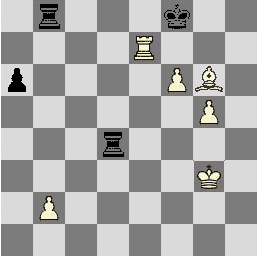 LEKO. Peter as we know him cannot lose four games in one tournament. It is clear that a bunch of mistakes of different kind was the reason of his failure. Particularly, in his games with Topalov and Morozevich he lacked the piercing strength in the attack.
In the last round game one had to take more delicate measures, and Leko was up to the mark.
P.LEKO-R.KASIMDZHANOV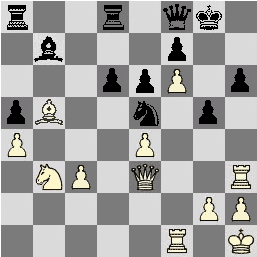 The mole-like rook's activity on the kingside is supported by crafty knight on the queenside.
30.¦h5 ¤g6 31.Јh3 Ґxe4 32.¤d2 Ґc2 33.¦xh6 ¦ac8 34.¦h5 ¦c5 35.¦c1 g4 36.Јxg4 Ґf5 37.Јg3 d5 38.¤b3 ¦cc8 39.¤d4 Ґe4 40.¤c6 ¦xc6 41.Ґxc6 Јd6 42.Јg5 Јf4 43.Јxf4 ¤xf4 44.¦g5+ ўh7 45.Ґb5 ўh6 46.h4 ¤xg2 47.¦xg2 ¦g8 48.¦cc2 1-0
KASIMDZHANOV has a reason to consider himself the unluckiest person of the event. He got a poor points harvest with very rich play. Having done some obvious opening preparation mistakes, he still managed to amaze Anand with a perfect novelty.
R.KASIMDZHANOV-V.ANAND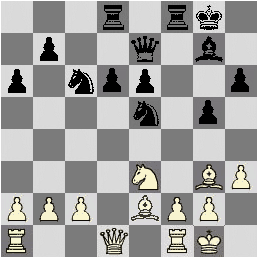 18.Ґh5!, and Black got disappointed.
The game with Svidler is the benefit performance of present FIDE ex-world champion. Peter hardly managed to reload his guns.
P.SVIDLER-R.KASIMDZHANOV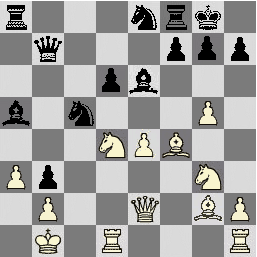 24...Ґc3! 25.e5 d5 26.Јb5 Јc7 27.¤ge2 Ґd7 28.e6 Ґxb5 29.Ґxc7 Ґxd4 30.¤xd4 fxe6 31.¤xb5 ¤xc7 32.¤xc7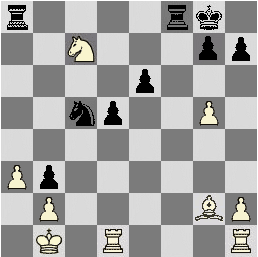 32...¦f2!! 33.¤xa8 ¤a4 34.¦d3 1/2-1/2
ADAMS did not win a single game, although he was not far from winning in the last round. And, generally speaking, he made progress every segment. The tournament turned out to be too short.
Michael's fresh opening idea could catch unaware anyone but the new world champion.
M.ADAMS-V.TOPALOV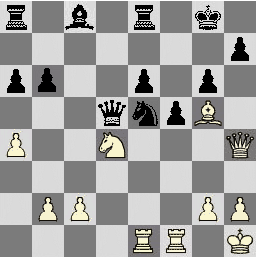 24.¤e2 ¤f7 25.¤f4 Јc6 26.¤h5. It is risky to accept the sacrifice, and, considering the status of the competition, it is prohibited. Had Veselin had this position during preparation, as in the game with Anand, it would be a different story... and now he loses an exchange himself.
26...¤xg5 27.¤f6+ ўf7 28.¤xe8 Ґb7 29.¤d6+ Јxd6 30.Јxg5, and the game ended in a draw.
POLGAR. Queen made a brilliant display of herself only once. And even here the opponent missed a real chance to switch the dimmer on.
J.POLGAR-R.KASIMDZHANOV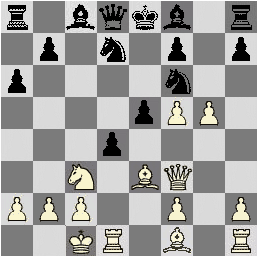 13.Ґxd4 exd4 14.¦xd4 Ґg7 15.¦g1 ўf8 16.Јe3 Јe7 17.Јd2 h6 18.gxf6 ¤xf6 19.¦d8+ ¤e8 20.Ґb5 axb5 21.¦e1 b4. Let us finish here. I will not cite Judit's move. All the previous series is marvelous.
So, there were a lot of pearls in Argentina. In future we will put them out and enjoy from time to time. And now it is time for tango!