03.10.2005 PEARL OF THE THIRD DAY: TIGER PULLED BY WHISKERS, LION WITH OPEN JAWS, INSURGENT DRAGON

While grandmasters were playing the openings in the third round, I decided to systemize the achievements of the first two ones in the aspect concerning my particular speciality. Like all the matter (including Everest and sumo world champions) consists of the molecules indistinguishable to eyes, the chess game (even the most brilliant one) consists of the unpretentious pieces movements. Sometimes it happens that simple moves constitute a captivating picture. But these are outstanding exclusions. Usually the whole is a sum of the parts. And in order to beat the opponent beautifully and be applauded by the jaded public, one should amaze with several bright moves during the game.
What is the problem with bright moves nowadays? Everything is already done, known. Not to talk long about the profundity of the opening innovations, I will give several examples that have no close connection to the world championship, but concern one of the participants.
K.LANDA-E.SHAPOSHNIKOV
Russian team championship, Dagomys 2005
1.e4 c6 2.d4 d5 3.¤c3 dxe4 4.¤xe4 Ґf5 5.¤g3 Ґg6 6.h4 h6 7.¤f3 ¤d7 8.h5 Ґh7 9.Ґd3 Ґxd3 10.Јxd3 e6 11.Ґf4 Јa5+ 12.Ґd2 Ґb4 13.c3 Ґe7 14.c4 Јa6 15.0-0 ¦d8 16.b4 ¤gf6 17.a4 b6 18.¦fe1 0-0 19.¤f5 ¦fe8.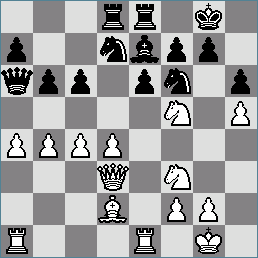 20.¤xg7 ўxg7 21.¦xe6 fxe6 22.Ґxh6+ ўh8 23.Ґg7+ ўxg7 24.Јg6+. Black resigned.
Marvelous combinational hurricane, is not it? The game became well-known. But it is known not only because of the text, but also because of Konstantin's remark that he does not see his merit in the attack, because all the sacrifices were found long ago by Anand. But even with this remark White's attack looks impressive. And recently in the Polish team championship (again team! We should find out whether it is an occasional coincidence) the subsequent game was played.
S.FEDORCHUK-L.СIBOROVSKY
Lubnevice 2005
1.e4 c6 2.d4 d5 3.¤d2 dxe4 4.¤xe4 Ґf5 5.¤g3 Ґg6 6.h4 h6 7.¤f3 ¤d7 8.h5 Ґh7 9.Ґd3 Ґxd3 10.Јxd3 e6 11.Ґf4 Јa5+ 12.Ґd2 Јa4 13.0-0 ¤gf6 14.¦fe1 Ґe7 15.a3 ¦d8 16.b3 Јb5 17.c4 Јb6 18.b4 0-0 19.¤f5 ¦fe8.
20.¦xe6 fxe6 21.¤xg7 ўxg7 22.Ґxh6+ ўh8 23.Ґg7+ ўxg7 24.Јg6+ ўh8 25.¤g5 ¤e5 26.dxe5 ¦f8 27.h6 Јxf2+ 28.ўxf2 ¤e4+ 29.ўg1. Black resigned.
How do you like it?! It is obvious that Black tried to turn off the ruinous way, varied the opening slightly, but then he was attracted as by a magnet to a position with known motives. Or to give a more natural view, Polish chessplayer studied the theory in the 12...Јa4 variation and did not try to see what happens in the related lines.
And Sergey Fedorchuk had a better knowledge of the novelties and was rewarded. It is clear that he deserved the point, but he cannot claim a beauty prize. In principle, the situation is not new. Great people had sacrificed the h2- and g2-bishops till it became a widely available technical tool. And we are in a good situation: in many other creative fields one can be easily accused of plagiarism for such things.
And what new, unknown was done by the grandmasters during the first two days? Specifically, what maneuvers and attacks defined the «pearlness» of the chosen games?
I made a separate list of the unusual moves of the starting 8 games. I burned the list immediately afterwards (I worked this bad habit out in my childhood, when I once watched a spy movie about Stirlitz twice a day for two weeks). I will try to recollect the list by heart.
34...¤c3+ – the decisive move in Polgar-Anand game (maybe it was not that complicated, but he was not afraid to sacrifice the knight and won!). 12.Ґc4 and 14.Ґxd5 moves suggesting an exchange of bishops and knights, that gave Leko an overpowering position in the game with Topalov, and Veselin's cool-blooded defense 18...¤f4, that upset Peter's attack routine. Polgar's defensive regrouping 34...¦h8 and 37...¦hh7 in the duel with Adams. 18-20th and 27-28th Black's moves in the Leko-Morozevich game. I examined Topalov-Anand game closely, and do not know which move to admire. We do not admire the known moves by default, and because of that 19.¤c4 does not suit. 25...h5 was very sudden, but we can just shrug shoulders – a player simply made such a luft instead of weakening himself by g7-g6. But all other moves are even more usual in themselves. It seems that there is no contradiction to the thought of the first paragraph: a good draw can be built out of usual moves, and to make a beautiful victory one has to jump somewhere over his head.
Not much, you say? But it is my subjective assessment; someone else can find more reasons to admire. And at the same time another person can consider this list to be an exaggeration.
Meanwhile the third round of the world championship was played, and I have to choose from the great variety of variants. The game Morozevich-Topalov is not our case – the opponents labored through the game, and we have enough light and airy options. I am going to proclaim Judit Polgar's victory the best game of the day. Now I will explain why it is so step by step.
Firstly, near-chess reasons: 1) it should not be always Anand and 2) Judit is a fantastic woman!
A reasonable answer to the first reason: if Anand is such an outstanding person that he plays such marvelous games one after another, then it is unjust to suppress him. But in this case Judit's play sustains the comparison. Let us examine closer the Anand-Adams game. Using a database, we can easily get some important facts. Adams is one of the best experts in the Marshall Counterattack, and because of that we can rarely see the positions after 7...0-0 8.c3 d6. However, they still happen sometimes, and he usually prefers the system with 9...¤d7. Michael has a minimal practical experience in the Zaitsev System, but for some reason he decided to apply it this time. Maybe he did not take into account the fact that Vishy represents not only himself, but the whole India. Hundreds of the chess players from all the parts of the country, wishing Vishy's victory in the historical championship, send him opening novelties and innovations, using all contemporary means of communication. Poor Aruna hardly manages to do something: fax works, telephone rings, computer sends permanent sound signals – you can accept information, dear compatriots, in the honor of the Indian chess school. Hare Krishna!
A simple three button combination in the ChessBase allows to find out that the position after the 22nd move occurred earlier in the game of two Indian players. Ponnuswamy Kongusvel won over Babu. No, it would be better to say like that: the Konguvel-Babu game ended in White's favor. The bishop was moved to the e3 square on the 23rd move. Vishy applied a killing novelty.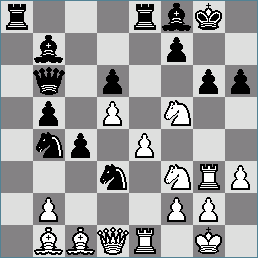 23.Јd2!!
The game ended in the subsequent way:
23...Ґxd5 24.¤xh6+ Ґxh6 25.Јxh6 Јxf2+ 26.ўh2 ¤xe1.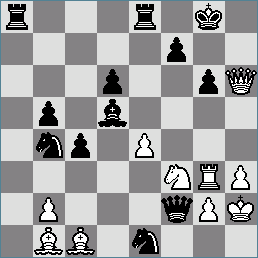 27.¤h4 ¤ed3 28.¤xg6 Јxg3+ 29.ўxg3 fxg6 30.Јxg6+ ўf8 31.Јf6+ ўg8 32.Ґh6. Black resigned.
Sergey Shipov is very right when he writes on ChessPro, «I will not dare to reconstruct in an hour all the analyses of Anand's headquarters». I will add a more stubborn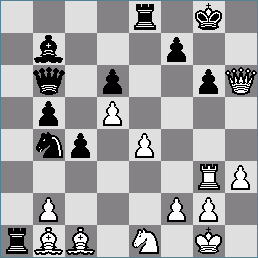 26...¦e5 27.¤f3 ¦xb1 28.¦xg6+ fxg6 29.Јxg6+ ўf8 30.¤xe5 ¦xc1+ 31.ўh2 Јxf2 32.Јxd6+ ўg7 33.Јg6+ ўf8 34.Јh6+ ўg8 35.Јxc1 to the most beautiful variation found by Sergey, 23...¤xe1 24.¤xe1 ¦a1 25.¤xh6+ Ґxh6 26.Јxh6 ¦xb1 27.¦xg6+ fxg6 28.Јxg6+ ўf8 29.Ґh6+ ўe7 30.Ґg5+ ўf8 31.Јh6+ ўg8 32.Ґf6 with a mate. In the former variation Black still has problems fighting against the queen-and-knight team and pawns that neutralize his extra bishop. In the starting positions of the cited (and many other) variations computer sees no danger for Black, but when we start to go deeper, the difficulties turn out to be everywhere. It is clearly the most difficult task to find the antidote during the game. Maybe fans with their calculators can find an effective defense looking through all the continuation, but it will happen in the end of the tournament, and the point is already won. Possibly, Anand did not have to word hark. Besides the prepared 23.Јd2, 27.¤h4 also deserves admiration. But Judit made no fewer outstanding moves.
Before starting to talk about her game, let us greet the first victory of the Russian participant. I hoped very much that Peter is an uncomfortable opponent for Leko, and I am glad that these hopes were not in vain. Only Leko's poor play decreases the aesthetic value of the game. 17.c3 is certainly the best White's move, and I have a special attitude to it, because I guessed it right during online, although others discussed mainly 17.¦e4.
P.SVIDLER-P.LEKO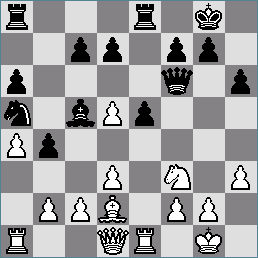 17.c3 bxc3. Black had the choice between this move and immediate 17...Јb6, and Leko's c3-capture without meditation amazed everyone. Gata Kamsky supposed that at this moment Peter (Leko) still followed the home analysis, but then it is hard to explain his awful positional mistake on the 20th move.
18.Ґxc3 Јb6 19.¦xe5 Ґxf2+ 20.ўh1 d6? 21.¦xe8+ ¦xe8 22.b4 ¤b7.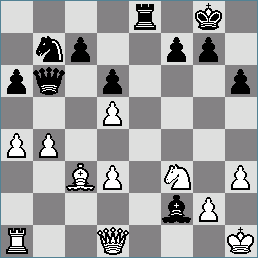 Vladimir Barsky tells on the «64» website that when he discussed this game with Alexander Morozevich, they did not agree in opinion about the b7-knight. Volodya thought it reminded of Sasha's g7-knight in his game with Dmitry Jakovenko in the country championship-2003, but, according to Sasha, the comparison is out of question.
D.JAKOVENKO-A.MOROZEVICH
Krasnoyarsk 2003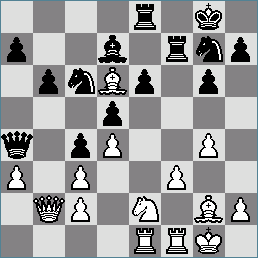 Morozevich can think himself to be right at least because in this game the knight went on f5 in almost 20 moves and played an important role in Black's victory. Recalling the opening of Burmakin-Morozevich game, in which Black's knight came on g7 on the 4th move (Levon Aronian's fruitful opening idea), we can ascertain that eccentric Morozevich understands knight fianchetto better than the strict classic style follower Leko. Anyway, he knows on which flank it should be done.
Let us come back to Svidler-Leko game for a short while. There was no struggle, and Petya made a natural final blow.
23.¦a2 Ґg3 24.¦e2 ¦d8 25.¤d4 a5 26.¤c6 ¦f8 27.Ґd4 Јa6 28.b5 Јa8 29.¦e7 Ґe5 30.¤xe5 dxe5 31.Ґxe5. Black resigned.
And now we proceed to the third round pearl.
J.POLGAR-R.KASIMDZHANOV
1.e4 c5 2.¤f3 d6 3.d4 cxd4 4.¤xd4 ¤f6 5.¤c3 a6 6.Ґe3 e6 7.g4 e5 8.¤f5 g6 9.g5 gxf5 10.exf5 d5 11.Јf3 d4 12.0-0-0 ¤bd7.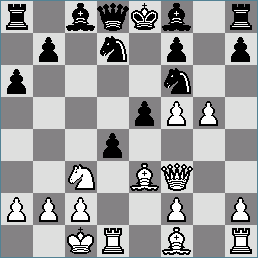 Annotating Polgar-Anand game of the first day, Sergey Shipov wrote, «In this game Judit pulled the Tiger by whiskers in vain». Judging by the guestbook, people liked this sentence, but to be honest I did not understand it: Anand is always clean-shaven. But the metaphor took the fancy nevertheless. And I wanted to apply it to this game also. But I abandoned the idea after several attempts: it turned out to be awkward and ambiguous. So I should say it without beating around the bush: Rustam was not forced choosing the scheme where Judit can attack and sacrifice. Vishy showed how one should play with her. Certainly Caro-Kann does not give 100% guarantee, nothing gives even 50% guarantee in the game against Judit, and even this number can be decreased at will. But why should one voluntarily put his head in the jaws of... Oh no! All these metaphors are unsuitable when talking about a woman. Maybe it is the subconscious effect of Judit's husband's profession: he is a veterinary surgeon. And she herself is the Dragon according to the Oriental horoscope, but this also is not the topic to go deep in (well, who knows... – Ed.)
Ok, now let us talk strictly and essentially about chess.
13.Ґxd4. An extremely rare continuation in comparison with 13.Ґd2. Judging by time spent and moves made, Rustam was not prepared to it.
13...exd4 14.¦xd4 Ґg7. Lembit Oll played 14...Ґc5 and won. Judit for sure had an improvement there, and maybe here she also started an original play. Her next moves show her as a marvelous attacking player: White does not hurry to return the material and holds the position under the tension. Her pawns prevent normal opponent's pieces development.
15.¦g1! On 15...0-0 White will already play 16.gxf6, making use of the fact that no minor piece can capture the f6-square.
15...ўf8 16.Јe3! Јe7.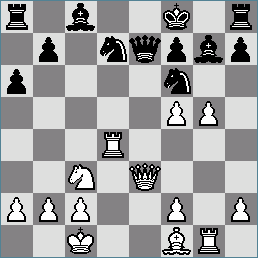 17.Јd2. By 17.Јxe7+ ўxe7 18.gxf6+ Ґxf6 19.¤d5+ White wins back all pieces that were sacrificed, because 19...ўf8 20.¤xf6 ¤xf6 21.¦d8+ ¤e8 is bad on account of the pinning 22.f6! But in case of 19...ўe8 20.¤c7+ ўd8 21.¦xd7+ Ґxd7 22.¤xa8 Ґxf5 White hardly has a risk to win.
17...h6. Let us be objective: we cannot talk about White's advantage, the situation is unclear. But we have to understand fully that Judit sacrificed two pieces in the world championship tournament. And in reward for the braveness Kaissa and Rustam as plenipotentiary representative of the chess muse forgave her mistake on the 22th move. Considering the position after the 17th move, 17...¦g8!? is stronger for Black, it was more useful to activate the rook than to make the opponent take one of the pieces. After 18.gxf6 Јxf6 Black has to untwist. 18.Ґg2 or 18.¦g3 deserves attention, acting in the same forcing way.
18.gxf6 ¤xf6. Maybe, 18...Јxf6 is better. In case of 19.¦xd7 Ґxd7 20.Јxd7 position simplifies, to Black's relief. But Judit would most likely have continued 19.¦dg4!? ¦g8 20.Јe3.
19.¦d8+ ¤e8.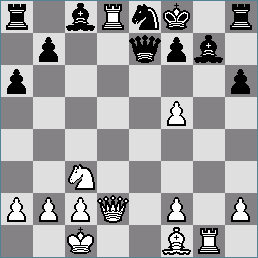 20.Ґb5! Argentinean fans – the most experienced of them – shivered. Their grandmasters Najdorf, Panno, Pilnik were defeated by the Soviet trio Keres, Geller, Spassky in faraway 1955 with the help of the bishop move on e5.
20...axb5 21.¦e1 b4. Judging by the subsequent development, the bishop interference on e5 dropped out of sight of the players. Now it did not help much: 21...Ґe5 22.f4 Ґf6 (22...Ґxf4 23.¦xe8+) 23.¦xe7 Ґxe7, and although Black has many pieces for the queen, they obviously lack coordination. After 24.Јd4 f6 25.¤xb5 Ґxd8 26.Јxd8 ўf7 27.¤c3 with subsequent ¤d5 White has a substantial advantage. But the text move is even worse.
22.¤b5? Plain 22.¦xe8+ ўxe8 23.¤d5 Јxe1+ 24.Јxe1+ ўd7 (24...ўf8 25.¤c7) 25.¤b6+ ўc6 26.¤xa8 Ґxf5 27.Јh1+! led to huge material and positional advantage. Maybe Judit was carried away by her conception and forgot that opponent's pieces can and should be taken sometimes.
22...Ґxb2+? The last Rustam's blunder. After 22...Ґe5 Black could straighten his shoulders. 23.f4? ¦xa2 is totally bad, and in case of 23.ўb1 ўg7 White's attack is at a deadlock, for example, 24.f4 Ґxf4 25.Јd4+ Јf6 or 24.¦d5 Јg5! 25.¦exe5 Јxd2 26.¦xd2. Now the queen exchange goes on absolutely different terms.
23.ўxb2 Јf6+ 24.Јd4!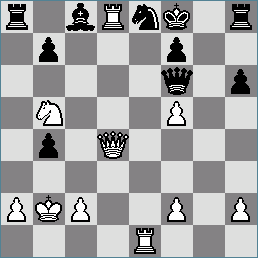 White wins the knight back and goes to the ending, where Black not only lacks the pawn, but has pieces in a sad state. Polgar plays the ending very accurately.
24...ўg7 25.¦exe8 ¦xe8 26.¦xe8 Јxd4+ 27.¤xd4 ўf6 28.f4! b6 29.¦d8 Ґb7 30.¦xa8 Ґxa8.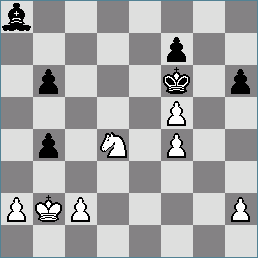 31.ўb3! Ґd5+ 32.ўxb4 Ґxa2 33.ўb5 Ґb1 34.c3! ўe7 35.ўxb6 ўd6 36.c4 Ґd3 37.c5+ ўd5 38.¤c6! ўe4 39.¤e7 Ґc2 40.c6 Ґa4 41.c7 Ґd7 42.ўc5! Black resigned.
What will the fourth day please us with after such colors outrage?