08.10.2005 PEARL OF THE DAY №4: LINARES HIRES LAWYERS

Taking care of the topics for spectators to discuss, grandmasters continued hard-edged struggle in the fourth round. Two total-lot resulting tours represent Linares supertournament in unattractive sight. If the games in San Luis will go on like that, we will have to admit that the existing theory contradicts objective facts, and will have to invent a new one. The main trump card of Linares lawyers can be the fact that in Argentina the victory is often the result of the opponent's weak play. And it is true, meanwhile there are a lot of mistakes. Probably, the chess throne candidates will make a mass attempt to put their feelings in order.
If we cast aside all the considerations about the computer participation in the contemporary home preparation and look at the games as if we came out of the Ark, then the best creative achievement would be Anand's victory over Adams. In this spectacular game the mistakes of the defeated player were caused by the opponent's marvelous play, and White's attack gives an enormous impression. In none of the fourth round games winner had to pose extremely difficult problems to the opponents, because the latter themselves contributed to the collapse of their positions.
Topalov, who gained the leadership, played well with Adams. But Michael amazed by the unintelligible play in the second part of the game. Having had big ideas about the Hedgehog, the opponents ended in the Benoni, and in the complicated position Englishman's chances were no worse. Sergey Shipov thinks that if Black and not White had put the pawn on the h5-square, Adams could have struggled for the advantage. After 22.h5 Veselin started to aim at the b1-h7 diagonal, and we cannot say he did it in a hurry. During this time Michael a) did not find necessary antidote b) instead of the careful defense rushed to kingside yielding the queenside c) in conclusion he blundered an elementary tactics – all this depresses slightly. I really hope that Adams will find his play in future.
Morozevich was defeated for the second time in a row, although he left the opening with great advantage. Vladimir Barsky shows on www.64.ru the variation they found after the game – White wins almost by force. Having passed the dangerous period, Svidler demonstrated persistent defense, gained the initiative on the second control and won for the second time in a row. This is a good tendency, he has to continue this way, we are ready to manage without outstanding creative work, now pearls mean nothing and points decide everything.
Leko gave first signs of reanimation. But to tell the truth Polgar played this game not better than the first one with Anand. It cannot be helped, Judit is unstable player. One time she is a tiger in her attacks, and on another day she plays like a child. There was one interesting moment in the game. Having applied a novelty and having got a natural reply, Peter engrossed in thoughts for a long time. Sergey Shipov even started to worry about him during the online. But then Leko made several moves in a rapid pace and easily led the game to his victory. It reminds me of Igor Yanvarev's story. He once helped Karen Grigorian to prepare for the game with Geller. They managed to catch Efim Petrovich in the variation of the Sicilian, and finally Karen had a chance to get a better ending without any risk. At some moment Geller engrossed in thoughts, though there was reason – there was practically one move. At first Grigorian did not pay attention to it – the person got in the unpleasant situation, he sits and gets accustomed to the fact that he has to defend tediously. And Geller thinks for 10 minutes, 20 minutes. Finally Karen became agitated – what is the opponent thinking about? He looked at the demonstration board, calculated the variations that were not analyzed during the preparation – and suddenly it dawned upon him: he can play better than they supposed. And in this variation he gets not a slightly better ending but a substantial advantage. That is why Geller still thinks – his look clearly states that he does not like the position at all. But he still has no choice. There is a need to calculate the variations more accurately once more... And then Geller reluctantly makes this only move. Grigorian checks this new idea and makes it certain that the calculation was right and he has to play for maximum. And as he makes a decisive step away from the home analysis, the opponent does not reflect long on the moves any more, but follows Karen's variation straight, and – what a horror! – it turns out that there was a disappointing miscalculation. Being demoralized, Grigorian loses shortly afterwards.
After the game Yanvarev smiles sympathetically and says, «So, he tricked you» Grigorian answers, «No, I did it myself... something appeared to me». Igor understands that his pupil did not catch the situation, and next time gives him a psychology book, where this trap is described in details. Karen returns the book in great agitation, «Listen, he knew it, didn't he?»
... I do not know whether it was something of that kind, but Judit admitted her defeat on the 25th move. It is interesting that at the moment of surrender she had two extra pawns.
And the main surprise of the round was Anand's defeat. And as it is an outstanding event, we accept Kasimdzhanov's victory the pearl of the day. Rustam played strongly and without hurrying up, and Vishy played quickly as usual, and judging by the moves he made, he was possessed by the feeling of permissiveness and impunity.
R.KASIMDZHANOV-V.ANAND
1.e4 c5 2.¤f3 d6 3.d4 cxd4 4.¤xd4 ¤f6 5.¤c3 a6 6.Ґe3 ¤g4 7.Ґg5 h6 8.Ґh4 g5 9.Ґg3 Ґg7 10.h3 ¤e5 11.¤f5 Ґxf5 12.exf5 ¤bc6 13.¤d5 e6 14.fxe6 fxe6 15.¤e3 0-0. Anand must have some pleasant recollections of this variation played as White. He won over Gelfand in Haifa in 2000 after 15...Јa5+ 16.c3 d5 17.Ґe2 0-0 18.0-0 ¦ad8 19.Јb3 b5 20.¦ad1 Јb6 21.¦fe1 Јc5 22.Јc2 b4 23.cxb4 Јxb4 24.Ґxa6 etc. Now I do not want to go in the references, but I vaguely remember the annotation and the general conclusion that Black's position is not bad in principle, but they have much more difficulties.
16.Ґe2 Јe7. Shirov achieved two distinguished victories after 16...d5 17.0-0. Against Polgar (Prague 1999) in the middlegame – 17...¤g6 17...Јb6 18.¤g4 ¦f5 19.c3 Јxb2 20.¦b1 Јxc3 21.¦xb7 ¦f7 22.Јb1 ¦xb7 23.Јxb7 ¦e8 24.Јxa6 ¤xg4 25.Ґxg4 ¤d4 26.¦b1, against Gelfand in the endgame – 18.c4 ¤d4 19.cxd5 exd5 20.Ґg4 ¤f4 21.Ґxf4 ¦xf4 22.Јd3 Јd6 23.¦ad1 ¦af8 24.¦d2 ўh8 25.¦fd1 a5 26.Јa3 Јxa3 27.bxa3 etc.
17.0-0 ¦ad8.
18.Ґh5! A novelty Mark Dvoretsky will surely like. In the Dolmatov-Sakaev game the opponents agreed to a draw after 18.c4 ¤g6 19.Јd2 ¤f4 20.¦ab1 Јf7. And as this knight move equalizes that well, one has to prevent it. Preventive thinking in its best possible way!
18...ўh8 19.¦e1 d5 20.a4! ¤c4? Practically any other suggestion would be followed by 21.¤g4, but if after the knight retreat from e5 Black still has the pawn center d5+e6, so there is a margin of safety. And in the game Anand has undefended light squares – something that cannot be liquidated by the queenside counterplay alone.
21.¤xc4 dxc4 22.Јg4 Јb4 23.Јxe6 ¦d2. In case of 23...¤d4 one should not pursue the ghost of the attack – 24.Јg6 Јxb2 25.Ґe5 Ґxe5 26.Јxh6+ ўg8 27.Јxg5+ Ґg7 28.Ґf7+ ¦xf7 29.Јxd8+ ¦f8 30.Јd5+ ўh8, and it probably ends in a draw. White gets a perfect position by centralizing – 24.Јe4 Јxb2 25.Ґe5. They follow the same principle also in case of 23...Јxb2 24.Јxc4 Јc3 25.Јe4 ¦d4 26.Јg6 ¦xa4 27.¦ad1, and after the text move.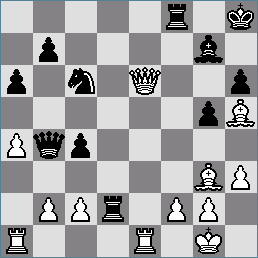 24.¦ad1! ¤d4. The benefits of controlling the open files in the center are seen in the variations arising after 24...¦xc2 25.Ґf3! (not 25.Ґd6 Јb6 with the attack on f2). The losing variations are 25...¤d4 26.¦xd4 Ґxd4 27.Јxh6+ ўg8 28.Ґd5+, or 25...Јxb2 26.Ґxc6 bxc6 27.Ґe5 Ґxe5 28.¦xe5, or 25...Јb6 26.Јg6. 25...¦f6 26.Јe8+ Јf8 (26...¦f8 27.Ґd6) 27.Ґd6 continuation does not defend from the bishop attack on d6. White has clear advantage also in case of 24...¦xd1 25.¦xd1 Јxa4 (25...Јxb2 26.Јxc4) 26.Ґg6.
25.Јe4 ¤f5 26.Ґe5. Computer suggests sophisticated 26.Ґh2. Then after 26...¦xf2 White can get in the trap – 27.ўxf2, and he has an advantage with two rooks for the queen – 27...¤d6+ 28.Јf3 ¦xf3+ 29.Ґxf3, and after 27...Јb6+ there is the only retreat 28.ўe2!, and white king is safe, and rook becomes an income item. But these ruses were optional.
26...¦xf2.
Here one cannot play 27.ўxf2? In case of 27...¤d6+ 28.Јf3 White maintains material balance, but intermediate 27...Јc5+! leads to the immediate Black's victory. Rustam, like Karpov, gathers all the pieces.
27.Ґf3! ¦d2. Black's queen turns out to be too far away in case of 27...Јb6 28.a5 Јa7 (28...Јc5 29.¦d5) 29.ўh1.
28.Ґxg7+ ўxg7. In case of 28...¤xg7, as in some previous annotation, one should not seek the Black's king intimacy – 29.Јg6 ¤f5, and Black holds. White gets technically won position with the help of 29.¦xd2 Јxd2 30.¦d1 Јb4 31.Јxb7.
29.Јe5+ ¦f6. And only so. The bishop attacks are threatening from everywhere – 29...ўg6 30.g4 or 29...ўg8 30.Ґd5+.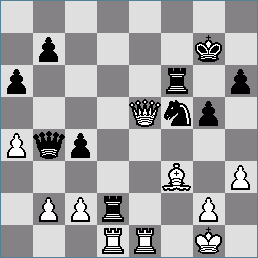 30.a5? We will not shut our eyes to defects for the sake of our love to integrity and perfection. A refined fixing pawn move is a mistake, leaving nothing of White's advantage. But Kaissa is on Vishy's side at last. After 30.¦xd2 Јxd2 31.Ґxb7 or 30.Ґg4 ¦xd1 31.¦xd1 Јe7 32.Јxe7+ ¤xe7 33.¦d7 White has an extra pawn.
30...¤h4?? One had to take the pawn away from the attack – 30...b5. It may seem strange, but in all the variations Black consolidates without the losses and has drawing chances, for example, 31.Ґg4 ¦xd1 32.¦xd1 Јe7, or 31.¦xd2 Јxd2 32.¦d1 Јe3+, or 31.axb6 Јxb6+ 32.ўh1 ¦xd1 33.¦xd1 Јe6.
31.Јc7+ ¦f7 32.Јe5+ ¦f6. Black has to repeat the position. King moves allow white rook and bishop to join the attack.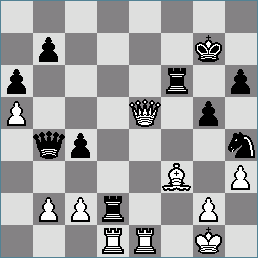 33.Ґh5! It is a profoundly symbolic winning move. The bishop enters the same river again. Black's king is unprotected now.
33...¤g6 (33...¦xg2+ 34.ўh1, and checks are over) 34.Ґxg6 ¦xd1 (34...ўxg6 35.Јe8+) 35.¦xd1 ўxg6 36.Јe4+ ўg7 37.¦d7+ ўg8. After 37...¦f7 White mates with checks – 38.Јe5+ ўg8 39.¦d8+ ўh7 (39...¦f8 40.Јe6+ ўg7 41.¦d7+) 40.¦h8+ ўg6 41.¦g8+ ўh5 42.Јe2+. In case of 37...ўf8 they would have to find a quiet 38.Јe5! move with only one minute left. But Anand submits to the defeat and does not place even this small problem.
38.Јh7+. Black resigned.
INTERMISSION