27.03.2006 ALEXANDER KENTLER. CROSSROADS: FORGIVE US!

R.D.Kholmov (13.05.1925 – 18.02.2006)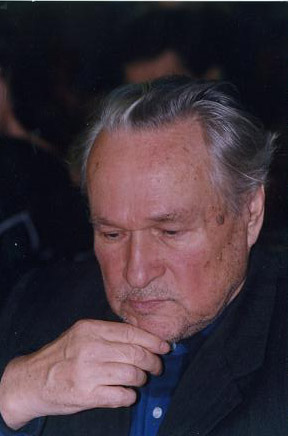 The information about the death of Ratmir Dmitrievich Kholmov came with a great delay. It is very strange because he lived in Moscow, where there are a lot of chess players, but they care only about themselves. And the grandmaster, whose character did not allow him to draw attention to himself, stood up to his principles (together with his family) even on the deathbed. The RCF veteran committee had no time for him – its members still argue about the recent championships in Moscow region. Kholmov had never been in the VIP list, he didn't take part in senior championships – nobody tried to find sponsorship for him, he wasn't even invited to the receptions. Mainly he was invited to play chess. Generally speaking, he was a worthy man. After the publication of a staggering monolog of Kholmov that was written down by talented Genna Sosonko (64, No 5, 2005) it is a thankless task to write anything worthwhile about Ratmir Dmitrievich. That's why giving tribute to the memory of this outstanding grandmaster, I will just give some data, and soon an article demonstrating his unique chess style will be published on our website. Champion of Arkhangelsk, Moscow, Belorussia, Lithuania (ten times!), Kirghizia, Moldavia, Georgia, he tied for the first place in the RSFSR championship, was also a medal-winner of the open championships of other Soviet Union Republics and the championships of "Spartak" – there was probably no other player who got so many various titles. Playing in the RSFSR and Moscow teams, he was a three-time champion of the USSR Spartakiad.

It is possible to judge about the level of any Soviet grandmaster by his performance in the legendary USSR championships. Ratmir Dmitrievich's name can be placed in the shortlist of the outstanding chess players. His achievements in these championships are unique.From 1948 to 1972 R.D. Kholmov played in sixteenth USSR championship (for some reason in the chess encyclopedias figure "17" is given but I didn't manage to find one more tournament). In 1963 he tied for the 1st-3rd places with Spassky and Stein, he played excellently in 1954 (finished 6th), in 1956 (he tied for the 5th-7th with Tal and Polugaevsky), in 1957 (another 6th), in 1959 (tied for the 4th-5th with Tal), in 1962 (4th), in 1965 (he tied for the 5th-6th places). His result in Tbilisi championship was outstanding – Ratmir Dmitrievich received seven special awards: best result against grandmasters, best result playing Black, best result in the last five rounds, best result against medal-winners, best game (against Paul Keres), one for making a grandmaster norm and best result among masters. In the post-Soviet time Kholmov played in the championships of Russia twice, the last time being in 1999. It had been more than half a century since he first participated in the USSR championship (1948).

Ratmir Dmitrievich was fond of visiting our city. He often played in Chigorin and Petrov Memorials, took part in the tournament devoted to Furman. Ratmir Dmitrievich, who was always cordial and well-disposed, but never haughty and self-conceited, was old enough to be a great grandfather of the young chess players, but he involuntarily gave his knowledge to them. The time will pass and many of them will remember that once they had an opportunity of playing against Kholmov (!) and analyzing their game with the grandmaster.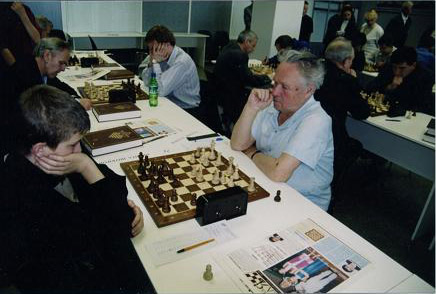 The match Moscow – St.Petersburg, 2002, the victorious game against Vitiugov

A bright player and a modest person, Ratmir Dmitrievich didn't blend with the established rules: he didn't advertise his anniversaries, didn't claim attention to himself, wasn't on friendly terms with "necessary" people, was neither a moaner nor an applicant. As any Russian he was humbled with disrespect for his old age and for the years given for serving the Motherland. In this case Kholmov had more luck – he served to chess and chess never let him down. Except for chess players who really let him down and didn't find time to realize that Ratmir Dmitrievich now stays only in tournament standings and games. Forgive us!