28.09.2005 ALEXANDER KHALIFMAN'S EXCLUSIVE INTERVIEW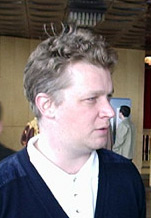 There is an impression that from year to year some forces try not to let grandmaster Khalifman into the Superfinal…
Indeed, a sort of devilry. It seems that now, when I have already qualified, it's difficult to imagine that I can be disqualified, there are no reasons for that. I was blocked off last year, but this year we have a true black out – the superfinal can be blocked off. The situation is certainly… not even funny, as it looks absurdly. The tournament has been scheduled long ago, and suddenly our dear Kirsan Nikolayevich decides to make the world chess community happy with the World cup. With a Russian organizer in addition. This situation is so awkward and strange… The World cup has been such a greatly expected event that it could have been postponed to the next few months. The skiing World cup in Khanty-Mansijsk was carried out, they seem to have a kind of experience, but this is a new and large scale event… I have so many queries in this regard!
The most tragicomic version will be if there is an uncertain term Superfinal postponement, and something is wrong with FIDE World cup at the last moment, as it happened many times. I can not even imagine what can happen: FIDE keeps us amused recently and impresses with news, so it's impossible to tell what they will do next. The situation is unsound in my opinion. There were a lot of possibilities to schedule these tournaments properly. Chess calendar is not that congested with major events for this to become a serious problem. The organizers were not in a terrible time-trouble as it would seem that it was decided to return to two-year cycle.
Is the future of the Superfinal is clear?
I spoke to Mr. Bakh yesterday and asked him the same question. He said that he did not have an answer to my question as different complicated negotiations are still on. However, personally, he believes in the Superfinal. We will also believe it somehow. But I will repeat again that this link-up was a great surprise for everyone. May be we will manage to persuade impassionate Khanty-Mansijsk guys and the head impassionate Kalmyk guy to postpone the world cup in order to organize it more thoroughly, say in March. After the events in Wijk aan Zee and Linares.
Do you believe that everything will be OK with this FIDE championship?
Well, if there are any problems, we won't be able to speak about any cheerful FIDE plans. Anand, Leko and Topalov would not play without any serious guarantees, they wouldn't conjecture whether they will be paid or not, or if they are paid will it be 50% or 10%?
Will you follow the tournament?
Of course, this is an interesting tournament. I've already told that I do not consider it to be a wholesome world championship, but, perhaps this would be the lesser of evils in our zugzwang situation.
Is it deficient because there was no qualification?
Certainly. I told the same about Kramnik – Kasparov match. They are two strongest chessplayers, that's right, but the lack of qualification destroys the very basement. There are no doubts about the level of the participants, about the fact that they deserve playing for the champion title etc. But it makes it all different when there is no qualification.
Will it be possible to declare the winner of this tournament an undisputed world champion?
First we need to know who will become a champion…
Does much depend on the name of the winner?
Yes, to a certain degree. In case of any surprise there will be talks that "this king is fake".
Does it mean that the chess world will be satisfied only with the victory of some certain participants?
Well, I think that the chess world needs to accustom itself with a fact that chess is a sport and if the name of a winner could be determined before the tournament starts, this would have been absolutely different thing. But this is chess, it's a sport. San Luis tournament will be won not by one who contributed more and not by one who has the highest rating, but by one who is better prepared for this tournament and who will play better in this tournament. This is a correct approach.
Do you have your own favorites in this tournament?
I will support and wish to win my landsman Peter Svidler. As for objective evaluation and honest rating I think that everyone has chances. However I would say that Anand is a light favorite. The distance is only 14 rounds long. One opening puncture… I do not expect anyone to score some unreal +8 or +9. There will be a positional struggle for every point and the role of contingency can become significant. Approaching the end of the event, the players' nerves will be very strained, and someone can break under the strain.
Who of the participants is good at coping with emotional stress?
(pause) Kasimdzhanov collapsed in the second half in Linares, but it's not emotions that were the reason – he has a good nervous system, the reason is the lack of experience in playing at such a level. But this negative experience could be of help. All the participants are quite strong professionals and it would be too raw to estimate their chances by guessing who could fall to pieces. Everybody knows that stability is not the main advantage of Morozevich, he plays very good when he is in good shape. Everything will depend on a certain situation. It's clear that Morozevich and Kasimdzhanov are more vulnerable in sportive and psychological aspects than, say, Topalov and Leko, but this does not mean anything.
Does it mean that all eight participants have chances to win in case they are well prepared and are in good shape?
Yes. If they have good luck as well… Taking into consideration that they will join battle with a full ammunition load, I think, we can expect interesting opening innovations – and somewhere a kill power of a novelty can play a decisive role.
What is your attitude to the hypothetical match of San Luis winner against Kramnik? Is there a point in carrying it out, will it be interesting?
Here a theory of probability begins: who will be the winner, what will be his attitude to the match etc. Will financing of this event be found? Will the situation reach a stalemate as there won't be any championships for five years because of preparation for the unification match? I do not know.
Generally speaking… If such a match happens, all the questions about formats and legitimacy won't be topical. On the other hand, let's suppose that everything is fine and the match is "on ice". And suddenly a hungry bear of scary appearance gets out from his political lair and says: wait a minute, I have the highest rating, and why is it all going without me. And we have chaos and madhouse once again. This situation is also possible. But I do not make any prospects any more. Recent n years situation in the chess world can not be forecasted. Such freak switches happen sometimes! I just follow the development of situation with interest. Well, and take part when possible. I did not take part in the European championship to a certain degree because I did not believe in any World cup. Now it's told it will take place. (Shrugs his shoulders) Hi, here we are! We shall see. It's true that I'm not just an observer, I'm almost an observer and I take all FIDE's changes easy.