02.08.2005 Women's chess. Kosintseva sisters answer the ACP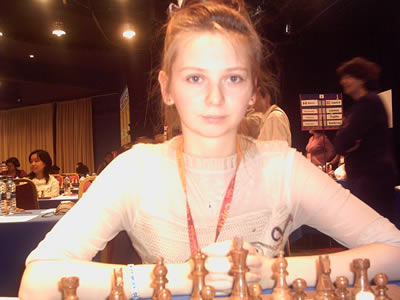 Nadezhda Kosintseva
Judit Polgar is the only woman who plays at the level of best world players, she is preeminent among the other women. What is the secret of her achievements?
We admire Judit Polgar. She is a really talented chessplayer and she is the only woman who manages to struggle head-to-head with the strongest players of the world. We think that a secret of her success comes from the fact that she has been playing in men's tournaments since her childhood, she has been focused on more professional, more tough men's chess. Undoubtedly she has a great capacity to work apart from the talent.
Is there "elite" in women's chess?
Chinese players are the first we think of in this regard. However, they were knocked out quickly during the world championship in Elista. There are many strong female chessplayers in Europe. Summarizing, one could count the top thirty of women's rating list as elite.
Why in your opinion Alexandra Kosteniuk successfully manages to combine her career of a chessplayer with shootings for advertising and fashion magazines?
The main thing here is a correct scheduling. It's possible to do many things if the day is well planned. In this case it's possible to combine any other activities (shootings as well) with chess. And, perhaps, advertising projects became more important for Kournikova than tennis, leading to a decrease of aspiration and worse results.
Is there a difference between women's and men's chess?
Nadezhda: The level of women's chess is lower, it is more "uneven", more emotional. But this spread reduces more and more in the last years, women started playing more tough, calculating and aggressive chess. I really want to believe that one day we'll manage to catch up with men.
Tatiana Kosintseva
Tatiana: On the other hand, this "unevenness" makes chess more spectacular. Taking into the account uncompromisingness of female players, we can be sure that the spectators won't be bored at a women's tournament.
Is it possible that women's chess becomes a professional sport?
It is quite possible. We even have some advantages against men's chess. The first thing is that it's more exciting and unusual both for spectators and sponsors to see girls playing chess. Add to this the aiming at playing till bare kings, competitive character and unpredictability of women's tournaments.
Besides, perhaps, women are not that spoilt with strong tournaments, big prizes, and are much easier to negotiate with.
Do you have any ideas about a chess show on TV? Could one use attractiveness of female players as a tool to gather more interest to such a show?
One could and one should! However, rapid tournaments are more suitable as a show, it's more difficult to make a show out of classical chess. It's quite possible to organize a kind of blitz tournament, simul, blindfold match and to broadcast these events. The main point is to show action, dynamics, than a TV spectator won't switch a channel.
Should the training of girls and boys differ?
Theoretically, there should not be any difference. If girls want to play stronger chess initially, they should be aimed at a more high level from the very beginning. They should not be given easier chess problems and be taught easier schemes only because they are girls. Let them have the same amount of work as boys have. It will be beneficial for them in future even if they will show worse results than the boy at first. A psychological approach should differ.
Whom of the male players do you like, judging by their play and personal qualities?
We've always marked out active and attacking style players. As for the personal qualities, we prefer communicating with friendly and sincere people. This concerns both chessplayers and people who do not play chess.
Photos from ChessBase and Chess21 archives
Questions were asked by Misha Savinov.
This article is published with permission of Association of Chess Professionals