19.04.2005 Alexey Dreev's opinion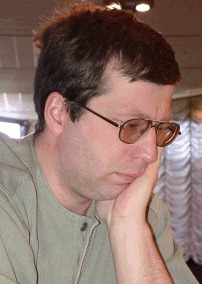 What do you think about the situation with Fischer receiving the Icelandic citizenship? Is it good, bad or neutral news for chess?
My attitude is very positive. Icelandic government helped a person, an outstanding man. It is certainly good for chess.
What changes of the present situation with the world championship are the most probable from your point of view?
Unfortunately the situation with the champion's title seems to be out of anyone's control now and a new development in the situation is absolutely unpredictable. FIDE's proposal (match-tournament of the eight) is not tenable. It is fundamentally wrong. Without a proper qualification it's impossible to determine the world champion. In particular, that competition does not meet the challenge of the chess world unification – quite a few of these eight players will reject the proposal.
I'd like to stress that there must be a qualification before the world champion. There is almost no relationship between the last FIDE's proposal and its previous policy. FIDE proclaimed the need of chess democratization, the necessity of giving the possibility to participate in the world championship to the maximum of the players. It was possible to qualify for some knock-outs even via Internet, not to mention usual ways – interzonal tournaments, continental championships… And now this sudden dial back! It is the wrong way.
It is proposed to preserve the knock-out renaming it the world cup. Why not to have this world cup as a qualification for the "tournament of the eight" and to compete for at least some of these eight places?
There certainly have been made a lot of remarks about the knock-out, but I think, that there has not been invented a better system yet, and the drawbacks are corrigible. It would be ideally to replace the knock-out by the "double knock-out" suggested by Khalifman and to have the annual world championship…
Who of modern young players could in your opinion feel Kasparov's shoes in the future? Who could break to the elite?
Actually, this is not enough to have a natural chess talent to become the world champion. Winning the highest title is determined by fate. A grandmaster's title at age of 13 and other early successes have nothing to do with this. It's impossible to claim seriously that a successful young chess player will certainly become a world championship or will even be close to. Partly I speak from experience. There is a huge gap between a young talented player and a crown contender, and you can not guarantee that a less prominent for today player won't surpass the present "stars" later. It happens that chess players at the age of 25 play poorer than at 20, and at 18 weaker than at 15. I won't name anyone, but there are a lot of examples.
These are journalists who are fond of making overtures basing on the early successes, this publicity can be quite useful for the chess players, but serious chess analysts are more careful. It makes sense to speak only about the leaders of a generation. Radjabov, Karjakin certainly stand out, Nakamura has good results. But I won't be surprised if in a period of time it will turn out that Nakamura, for instance, has hit his ceiling and he won't move any further… When a chess player has early successes his potential may seem to be enormous, though such is not the case.
Photo ChessBase
Questions were asked by Misha Savinov.
This article is published with permission of Association of Chess Professionals