24.10.2005 Konstantin Nikolayevich Aseev (1960-2004)

He would have been 45 on October 20, 2005.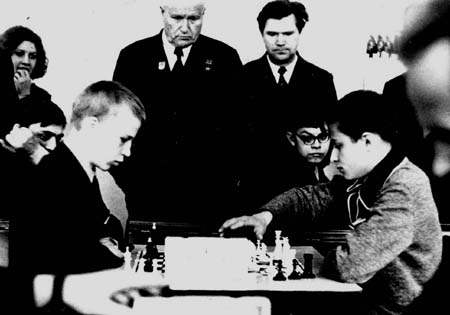 1975
Kuzbass chessplayers: Filippov, Pigusov, Kharlov, Dolmatov, Aseev, Smirnov.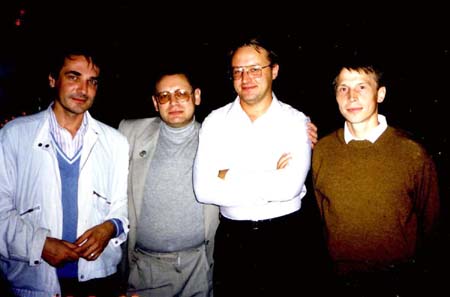 Dolmatov; Andreev, a trainer; Pigusov and Aseev.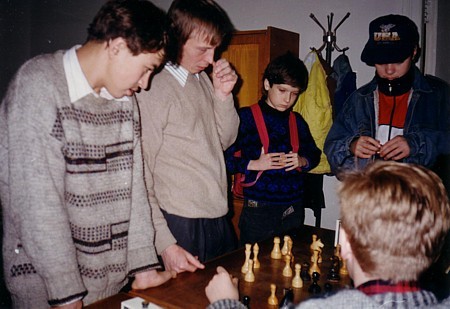 With young chessplayers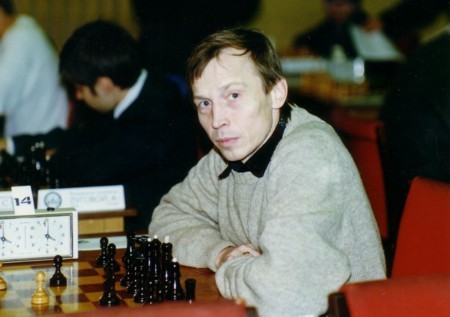 In Chigorin's chess club
With his wife Marina
With his daughter Masha
With mother and nephews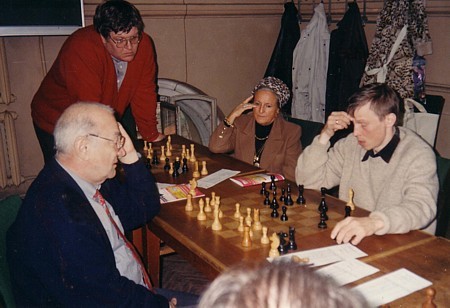 Post mortem with Korchnoi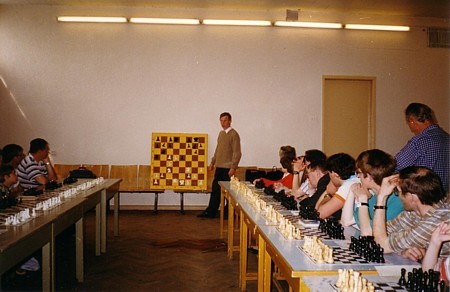 Grandmaster delivering a lecture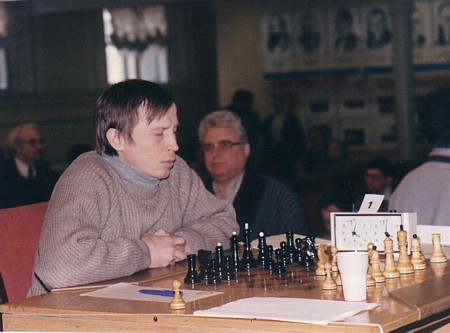 On a stage. Vasiukov on a background.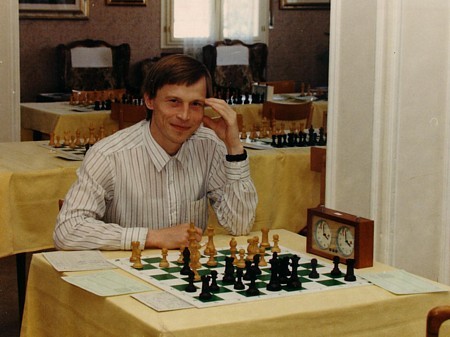 As we remember him
Memories of Evgeny Pigusov
I got acquainted with Kostya Aseev in 1974 at juniors` training session in Kemerovsky region. He lived in Novokuznetsk at that time and started working with Shtukaturkin, one of the strongest chessplayers of Kuzbass. Their lessons soon proved to be fruitful and Kostya became one of the 'elite' players of Kuzbass. At those days in Kemerovsky region lived such well-known young chessplayers as Sergei Dolmatov, Victor Moiseev, and Larisa Polnareva.
The first important success of Kostya happened in 1977 – he took the third place in the Russian junior championship and qualified for the USSR championship. I think that it was this success that predetermined his future chess destiny. Kostya once and for all decided for himself that his whole life will belong to chess and made up his mind to enter the Department of chess of the State Central Sports Institute.
What are my memories about Kostya? Our friendship that had started when he lived in Novokuznetsk never weakened despite the fact that after Kostya had moved to Moscow, we lived far away from each other. We frequently participated in the same tournaments and tried to help each other with various chess problems whenever possible.
I think that honesty and fidelity to principles were one of the most attractive sides of his character that his friends appreciated. These traits could be seen both at the board and in everyday life. I would also want to mention that he dearly loved his wife Marina, whom he met when studying at the University, and his daughter Masha. When we took part in competitions, he worried about his family very much, used to remember them and speak about them frequently. He tried to help his brother and parents when it was possible. It was a pleasure to stay in the bosom of his family when I visited St. Petersburg.
Konstantin loved chess devotedly and I think, he could have had much significant successes but for the illness he never told about.
Kostya paid more attention to a trainer`s work in the closing stages of his life, and his knowledge was in great demand. It was not accidentally that he was a trainer of St. Petersburg chess team, which is one of the strongest Russian teams and consisted of only super grandmasters.
The last time I saw Kostya was in a hospital, a few days before his death. Despite he was exhausted by illness he kept on struggling till the end, like in chess, and believed that he will manage to overcome.
This is the image of Konstantin Aseev I have in my mind – constant and kindhearted friend, person who loves his family and relatives, deeply and selflessly devoted to chess.
Memories of Rustem Dautov
I met Kostya Aseev in 1988 when he came to GDR where he was doing his military service. A group of Soviet Forces in Germany had a chess club for which we all used to play. We had a wonderful and friendly team: Valery Chekhov (junior ex-world champion, he was the only grandmaster in our team), Konstantin Aseev, Rustem Dautov, Andrey Kovalev, Sergei Kalinichev, and Vladimir Chuchelov. Several times we won Military forces team championship, played successfully in different individual tournaments in the USSR, GDR and other socialist countries.
Chess life in the officers` center of Wunsdorf military town that is near East Berlin was quite active. We had daily trainings. There is no surprise that Kostya, with his gift for analytical work, blended with the team excellently. Due to his innate gentleness and sociability, he became everyone's friend immediately. It was always possible to laugh with him, he was fond of joking and never took offence at the jokes of the others. It was very pleasant to work with him – he never tried holding back information and easily shared his opening ideas, which he had in abundance. In those 'pre-computer' days more attention was paid to ideas and less to specific moves, while now increasing strength of computer programs makes us think more concrete, one move by move. Kostya helped me to develop the Queen`s Indian Defense with Black a few months after his arrival to Wunsdorf. Of particular interest were his special systems against a variation with 4.g3 that serve me hand and foot until now. There also came Rauzer Variation of the Sicilian, in which Kostya was a real expert as he played it both with Black and White. Intensive opening preparation had told soon, and in half a year I managed to make the first grandmaster norm.
We became great friends with Kostya. Love to nature in addition to chess was bringing us together. Wunsdorf is surrounded with forest, which is rich with berries and mushrooms in summer and autumn, so, when we had time, we frequently had many-hours 'harvesting' rambles. Being crazy about fishing, we were lucky to have a beautiful lake near the town. A few times we went fishing carps in night time. It`s such a pleasure for me remembering those warm summer nights, minding a float, fisherman`s stories and debates about chess and life! I remember, once tedious rain kept coming down and we got soaked to the skin. Nevertheless, we did not want to return as the bite was fantastic. And we sat a few hours till the morning, bearing up each other when we started being numb. Kostya had always been a real fan of nature, later he never forgot mentioning in e-mails his recent ramble through a forest and amount of fish and mushrooms he brought.
Kostya and his wife Marina used to be hospitable hosts. I lived alone at that time and it was a real pleasure for me to visit them. Chess analysis frequently dragged on till the night and Kostya never let me go without a good supper. It became possible for the members of the chess team of Soviet forces in Germany to go to the western part of Germany and take part in open tournaments after West and East Germany unification. We were amazed by the Western standards of life. The first thought that stroke our mind when we came to Altensteig that is near Stuttgart to participate in an open tournament was that we got to a kind of Heaven. Incredible cleanness, friendly people, perfect playing conditions. Later we understood that not everything was as simple as we thought it to be, that there are a lot of problems behind these external advantages. And still, western Germany had been Heaven for us for a long time – we were in a perfect shape due to regular training, we were winning tournaments one after another and soon became grandmasters. Soon we were invited to play for a Bundesliga team. First we played a few games for FTG Frankfurt, thus we became acquainted with many new people and started learning German. Unfortunately, our paths diverged soon: owing to Soviet Forces pullout from Germany, Kostya with his family came back to St.Petersburg and I stayed in Germany and then moved to the West. However, our friendship remained – we met at the tournaments from time to time, called up, and started regular correspondence as soon as e-mail emerged. Kostya was always ready to help but he was not fond of speaking about his own problems he had enough.
Last time we met during the active chess tournament in Mainz in 2003. Kostya was happy to visit Germany again and we walked a lot. He had many chess and life plans as usual, and as usual he told much about his treks to the country. It was impossible to imagine that he will die soon. Destiny is a cruel thing, it roots out the best early and mercilessly.
Neverov – Aseev
The Queen`s Indian defense
Sochi, 1993
Annotated by Dautov
1.d4 ¤f6 2.c4 e6 3.¤f3 b6 4.g3 ¥a6 5.b3 ¥b4+ 6.¥d2 ¥e7 7.¥g2 d5
The favorite system of Kostya, which served him hand and foot all his life.
8.cxd5 exd5 9.0–0 0–0 10.¤c3 ¥b7 11.£c2 ¤a6 В
Unlike many Queen`s Indian variations with 4.g3, in which Black tries to equalize by exchanging, in this case Black aims at complicated and sanguineous struggle. Full of tension positions with hanging d5 and c5 pawns emerge in this system frequently.
12.¦ad1
Rooks are moved on c1 and d1 more often, for example, 12.¦fd1 £c8 13.¥g5 ¦d8 14.¤e5 c5 15.¦ac1 h6 16.¥xf6 ¥xf6 17.e3 ¤c7 18.f4 cxd4 19.exd4 ¥e7 20.£e2 £e6 21.£h5 ¥a3 22.¦c2 ¤e8 23.¤b5 ¥d6 24.¤xd6 ¦xd6 25.¦e1² Eingorn,V-Aseev,K /Lvov1990.
12...£c8 13.¥g5
Logical, though quite a straightforward move. To unclear and double-edged play lead the following continuations 13. Ґf4 и 13. ¤h4:13.¥f4 c5 14.¥e5 ¦d8 15.¤g5 ¤b4 16.£b1 h6 17.¥h3 £c6 18.¥xf6 ¥xf6 19.£h7+ ¢f8 20.¤f3 ¥c8÷ Yuferov-Obukhov/URS/1991; 13.¤h4 ¦e8 (13...g6!? 14.¥g5 £e6 15.¦fe1 ¦fe8 16.¤f3 c5 17.¥xf6 ¥xf6 18.e3 ¦ac8 19.£d2 ¦ed8 20.h4 ¤c7 21.¤e2 £e7 22.¤f4 ¤e6= Grachev,B-Alekseev,E /Moscow 2002) 14.¤f5 ¥f8 15.¥h3 £d8 16.¥f4 ¤e4 17.¤xe4 dxe4 18.d5 ¤b4 19.£xc7 £xc7 20.¥xc7 ¤xd5 21.¦c1 ¥a6= Hebden-Psakhis/Oostendeop/1992.
13...¦e8!?
In this case and later Kostya avoids h7-h6 that weakens g6. Without this weakening Black can always draw white knight away from e5 by f7-f6. Other continuations also look quite nice, for example, 13...£e6 14.¤e5 c5 15.e3 ¦fd8 16.¤e2 cxd4 17.exd4 ¦ac8 18.£b1 ¤e4 19.¥xe7 £xe7 20.f3 ¤f6 21.¤f4 ¦c7 22.¦fe1 £a3= ўhalifman,A-Kengis,E /Luzern 1993 , или 13...h6 14.¥xf6 ¥xf6 15.¤e5 ¦d8 16.e4 (16.f4 c5 17.e3 £e6=) 16...¤b4 17.£b1 c5 18.¤xd5 ¤xd5 19.exd5 ¥xd5 20.¥xd5 ¦xd5= Tunik,G-Ionov,S/StPetersburg 1998.
14.¤e5 c5 15.£b2!
Certainly impossible is 15.e3? cxd4 16.exd4 ¤e4 17.¥xe7 ¦xe7³ that plays into the hands of Black.
15...¤c7!
Black is not in a hurry to take the pawn strain of the center and centralizes instead. It was too early for 15...cxd4?! 16.¤b5 (16.¦xd4? ¥c5µ) 16...¤e4 17.¥xe7 (17.¦c1? £e6 18.¥f4 ¥f6µ) 17...¦xe7 18.£xd4 (18.¤f3? ¤c3µ) 18...£c5 19.£xc5 bxc5 20.¥xe4 ¦xe5 21.¥f3 ¥c6 22.¤c3 ¤c7 23.¦d2² and White gets a bit more advantageous ending.
16.e3 £f5 17.f4 ¦ad8=
Black has every reason to be satisfied with opening results: all his pieces are centralized and work together well.
18.¢h1
18.¥xf6!? £xf6! (18...¥xf6?! 19.g4 £c8 20.g5 ¥xe5 21.fxe5 £g4 22.£f2²) 19.g4 cxd4 (19...h6!?) 20.exd4 ¤e6 21.g5 £f5 22.¤e2÷ would lead to a double-edged play.
18...£c8!
A delicate prophylactic move. Kostya was right as he realized that it had not been a happy hour to speed up events yet. It is better to pass for a while on exchanging on d4 with subsequent ¤e4.Besides preparing this exchange, Black can play ¤e6, at any time, not worrying about the strained position of the queen on f5. It was strong to play 20.¦c1! ¦c8 21.¥xe7 ¦xe7 22.£a3±in response to the immediate 18...cxd4?! 19.exd4 (19.¦xd4? ¥c5µ) 19...¤e4.
19.¥f3?!
A careless response! Neverov allows the aforesaid exchange in advantageous for Black version. It would be more precise to play 19.¦c1! ¤e6 20.¥h4 £a8 21.¦fd1 cxd4 22.exd4 ¤e4 23.¥xe7 ¦xe7 with approximately even position.
23.¥g4 £a8
Richard Reti would have been very happy with this move of Kostya.
24.¤f3 ¤e8!
Kostya shows an enviable patience in a better position – he moves the knight from c7 on a more powerful position on d6 before doubling the rooks along the e-file.
25.¤h4 ¤8d6 26.¤f5 ¤xf5 27.¥xf5 ¦de8 28.¢g1 £d8
Black queen returns to the center on time. The knight`s dominant position on e4 determines small, but firm advantage of Black.
29.¦fe1?
Perhaps both opponents had been in time trouble by this moment as it is difficult to give another explanation to a mutual blunder concerned with this move.
29...g6?
Black could win the d4-pawn by force: 29...¤d6! 30.¦xe7 £xe7 31.¥h3 £e3+ 32.¢h1 £xd4–+.
30.¥g4
30.¥xe4 dxe4 31.¦cd1 ¦d7 32.£f2 f5³
30...h5! 31.¥e2?
Mistakes are easy to be made when there are a lot of opportunities in the time trouble. 31.¤xe4 was to be played.
31. 31.¥h3? ¤g5 32.¦xe7 ¤xh3+ 33.¢g2 ¤xf4+ 34.gxf4 £xe7–+; 31.¥d1? ¤xc3 32.¦xe7 £xe7 33.£xc3 ¦c8–+; 31.¤xe4! ¦xe4 32.¦xe4 dxe4 33.¥e2 ¢g7³.
31...¤xc3 32.¦xc3 ¥a6–+
A decisive pin!
33.¦c2 £d7 34.b4 ¥c4 35.¦xc4 dxc4 36.¥xc4+ ¢g7 37.¦xe7+ £xe7 , White resigned (0:1).