09.11.2007 V.Faibisovich. There are still places…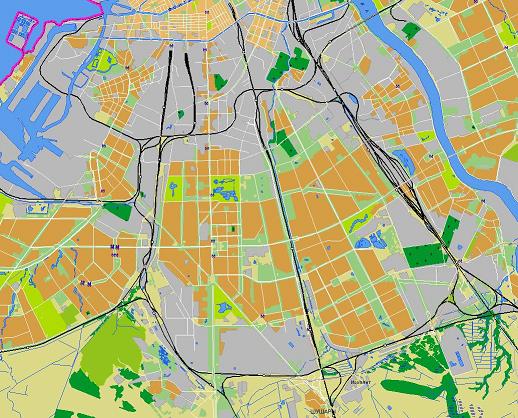 Tour 7 includes territories of Kirovsky, Moskovsky, Frunzensky and parts of Krasnoselsky and Nevsky districts.
Stachek Square 4
Moskovsko-Narvsky House of Culture (an original name of A.M.Gorky Palace of Culture) opened in November, 1927, immediately became a most popular chess place of industrial outskirts of those days.
As early as in 1928 here within the framework of the City Olympiad a tournament with participation of players well-known to the older generation:Ragozin, Chekhover, Kuzminykh - took place. In August1929 here was held an "International Workers' Chess Congress". In the main tournament the first two places shared N.D.Grigoriev and P.A.Romanovsky. In January 1930 a grand chess-and-checkers match (on 200 boards!) between the "Metallisty" ("Metalworkers") and the "Stroyitely" ("Builders") took place here. On the first board the "metalworkers''' leader M.M.Botvinnik sustained a sensational defeat. His opponent G.A.Shchipunov (1910 – 1945), who would later fall in the end of the War near Berlin, would appear in the chess competitions rarely enough, but nevertheless managed to show good results in the Leningrad championships (in 1931 and 1937).
Among the other events held here I'd like to mention the masters' tournament of 1932 (1. Chekhover, 2. Nenarokov), the tournaments of 1961 and 1966 (in the former the master's norm was scored by A.A.Krutiansky and in the latter by G.M.Chepukaitis) and Bronstein vs. Korchnoi training match which the Moscow GM won 4 points to 2 in summer of 1970. One of the final pages in the chess history of A.M.Gorky Palace of Culture was the first public performance of V.L.Korchnoi after his long years of absence in May 1992.
There only remains to add that for years the chess affairs here (the first thing that comes to mind is traditional Sunday blitz game) had been managed by Ye.M. Gelman and V.I.Osipov; both of them left for the USA in their turn.
Liflyandskaya Street 12
The "Ekateringof" park. Here young M.M.Botvinnik gave his first simultaneous display in 1926.
Vindavskaya Street 2
Seamen's Palace of Culture used to be a base for the "Vodnik" sport society chessplayers. Here they would hold their tournaments, the most frequent winners being A.G.Reshko and A.A. Genin. In 1963 acitychampionshiptookplacehere(1. Vladimirov). It is the only round-robin of this level, the tournament table of which has not been published yet.
Promyshlennaya Street 5
Here in the years 1997-2004 in the ArtStream Publishers the "Shakhmatnyi Peterburg" ("Chess Petersburg") magazine was being prepared for printing.
Ivana Chernykh Street 19
In this house master V.V.Shishmariov, Honored Coach of Russia, lived for years.
Stachek Avenue 23
In this corner house lived one of the winners of the 1940 USSR Championship, an outstanding chess teacher, Honored Coach of the USSR, the author of a number of books GM I.Z.Bondarevsky (1913 – 1979).
Stachek Avenue72
In the I.I.Gaz Palace of Culture one of the rounds of the 1939 USSR championship and the last round of the 1971 USSR championship were played. In 1970 here was held a four-round Leningrad vs. Prague match.
Marshala Govorova Street 18
Here at the turn of 1980s and 1990s the V.A.Korolkov Chess Club was situated. Its existence has been brief, but still we can recall the 1989 women rapid chess tournament (1. Levitina). This appearance of the outstanding chessplayer in her native city had turned out to be the last one before she left the country. And in 1990 an open tournament was held here; one of the winners was a 14-years-old youngster named Peter Svidler.
Primakova Street 16
Here lived A.V. Yermolinsky, Leningrad champion of 1985, a bronze medal winner of the 1983 Spartakiad of USSR Nations as member of the city team, champion of the USA in 1996, a prize winner of the World Olympiads of 1996 and 1998 as a member of the USA team, IGM, the author of the book "Weg zur Verbesserung im Schach".
Krasnoputilovskaya Street 61
In this house lived master Yu.G.Safarov, a mathematician, a Doctor of Sciences. He took part in the city championship only once, but quite adequately (in 1977 he shared places from 5th to 7th). Like Yermolinsky, Safarov won the 1974 All-Union Schoolchildren's Spartakiad as a member of Leningrad team. Later in the same house lived the Shushpanovs couple: master V.F.Shushpanov, a participant of several city championships and a successful children's coach, and N.A. Shushpanova (née Terentyeva), a bronze medal winner of 1985 Leningrad Championship .
Tramvayny Avenue 20
One of the best children's chess centers of our city. Achievements of the coaching team headed by G.A.Neizberg, are especially noticeable in younger age groups. Pride of the club is Polina Malysheva, junior girls' Russia champion of 2000 and 2002 and world champion of 2003, champion of St. Petersburg in 2005.
Leninsky Avenue 133-4
Kirovsky District Palace of Children's and Youth's Creative Work. Here worked master P.Anisimov, the winner of 2000 Russia junior championship (U14), a runner-up of 2007 St. Petersburg championship.
Tambasova Street 10-1
Here lived master N.A.Novotelnov (1911 – 2006), the champion of the RSFSR in 1947, a participant of the 1951 USSR championship, the winner of the 1951 USSR team championship as a member of the RSFSR team, the author of the book "Meet chess".
Narodnogo Opolcheniya Avenue 233
Here lived N.M.Sirotkina (née Sitnikova), three times a prize-winner of the USSR girls' championships (1979, 1980 and 1982), the USSR Cup winner in 1982 as a member of "Trud" team, a participant of the 1989 USSR championship (7th place), six times champions of our city (1984, 1986, 1990, 1995, 1996, 2000).
Moskovsky Avenue 75
During 1960sinthishouselivedIGMM.Ye.Taimanov.
Moskovsky Avenue100
The address both of the Novodevichy Monastery and of cemetery of the same name, where M.I.Chigorin's is buried.
Moskovsky Avenue 97
In summer of 1937 here in the V.P.Kapranov's House of Culture a tournament was held. First place, leaving behind V.A.Chekhover and A.K.Tolush, won master V.I.Sozin (1896 – 1956), four times a participator of the USSR championships, an author of two books on chess, and a well-known chess analyst.
Recently the V.P.Kapranov's House of Culture suffered the same fate as the House of Culture named after the First Five-year Plan. Those buildings do not exist any more; there are new construction areas there.
Moskovsky Avenue 178
In this house lived master V.M.Koginov (1927 – 2004), three times a participator of the Leningrad championships (shared 7th and 8th places in 1966).
Chernyshevskogo Square 11
In 1990-1993 in the "Rossia" Hotel several qualifying tournaments for junior world and European championships were held. Many a present-day IGM took part in it, including the world champion title challengers P.Svidler and A.Morozevich. In 1993 a zonal tournament took place here (1. Dvoirys, 2.Dreev, 3. Sveshnikov), and in 1991 the USSR – Yugoslavia junior teams' match was held there, up to now the only event in our city in which V.Kramnik participated.
Novoizmailovsky Avenue 32-2
Here lived L.I.Shapiro (1910 – 1990), a surgeon, Honored Physician of Russia, a participator of the 1943 championship of Leningrad (3rd place!), an international arbiter.
Kuznetsovskaya Street 25
Moskovsky Victory Park has been a popular place with the blitzers for a long time. Among the former frequenters V.V.Shishkin (1938 – 1990), a runner-up of the 1958 USSR team championship, a champion of Leningrad in 1960, is undoubtedly worth mentioning.
Basseynaya Street 57
B.V.Spassky Children Club has, due to energy of its head K.V.Annenkov, now become a main chess center of Moskovsky District. Not only everyday classes are held here, but also junior tournaments on a city (and sometimes international) level.
Basseynaya Street85
In this house A.V.Khalifman, the world champion of 1999, has been living for a long time. Besides this highest title he also has a lot of others: the USSR junior champion of 1982 and 1984, junior European champion of 1985/86, 1996 Russia champion, champion of St. Petersburg in 1996 and 1997 the winner of World Olympiads in 1992, 2000, 2002 and of World team championship in1997 as a member of the Russian team. Thisrecordisnotcompleteatall. IGM A.V.Khalifman is also a founder of his own chess school and an author of some books.
Kosmonavtov Avenue 34
In this house lived V.K.Konstantinov (1930 – 1997), a playwright, a satirist poet and a first category chessplayer.
Yuriya Gagarina Avenue 38-3
Here lived B.N.Gurevich, a candidate master, a well-known in the past chess journalist and a participator of the Leningrad championship in 1954.
Ordzhonikidze Street 26
In this house lived O.M. Stjazhkina (née Florova), WGM, five times champion of St. Petersburg (1993, 1997, 1999, 2002 and 2003), a participant of several Russia championships (4th places in 1999 and 2003).
In the same house lived N.A.Khodorov (1901 – 1979), a Colonel of Artillery, a director of M.I.Chigorin City Chess Club in 1962-1978 and a hero of chess folklore.
Varshavskaya Street 104
This is an address of one of the leading chessplayers of our time. P.V.Svidler is junior world champion of 1994, champion of St. Petersburg in 1995, four times champion of Russia (1994, 1995, 1997, 2003), bronze medal winner of FIDE world championship in 2001, the winner of World Olympiads of 1994, 1996, 1998, 2000 and 2002 and of the World team championships in 1997 and 2005 as a member of Russian team.
Altayskaya Street 24
Moskovsky District House of Children's Creative Works (previously House of Pioneers and Schoolchildren), in which both O.M.Stjazhkina and P.V.Svidler have begun their chess careers. Their teacher here was master V.N.Stjazhkin, graduate of the Higher coaching school.
Pobedy Square 1
Here in the congress hall of the "Pulkovskaya" Hotel in March 1995 the women's final candidates' match was held. It finished unexpectedly rapidly: Zsuzsa (Susan) Polgar defeated Maia Chiburdanidze with a score of 5.5 points to 1.5. In the auditorium one could see the all-time strongest lady chessplayer Judit Polgar who helped her sister during that match.
Lensoveta Street 67
Here lived Yu.Z.Rosenstein (1905 – 2006), a participant of the 1937 championship of Leningrad. On the eve of his centenary he still played in one of the tournaments in Israel.
Kosmonavtov Avenue 94
In this house lived L.A.Mitrofanov (1932 – 1992), Candidate of Chemistry, master of chess composition, creator of first-class studies.
Vitebsky Avenue 87-1
Here lived E.V.Bystryakova (née Belova), six times champion of the city (1976, 1981, 1982, 1988, 1989, 1991), winner of the All-Union Schoolchildren's Spartakiad of 1974 and bronze medal winner of the 1983 USSR Nations' Spartakiad as a member of the Leningrad team.
Kupchinskaya Street 32
The "Sovremennik" ("Contemporary") Club has only recently become a main chess center of Frunzensky Disrtict. Nevertheless, an enviable number of mass competitions have been held here in this short time.
Zagrebsky Boulevard 35/28
In this house lived candidate master S.Ye.Polovets, a runner-up of the 1962 USSR junior team championship as a member of the Leningrad junior team, junior champion of Leningrad in 1964.
Jaroslava Haseka Street 15
The address of GM V.A.Loginov, three times champion of St.Petersburg (2000, 2004, 2005), a runner-up of the 1992 World Olympiad as a member of the Uzbekistan team.
Slavy Avenue 10-1
Here lived master D.G.Zernitsky, one of the winners of the Leningrad "Burevestnik" sport society championship in 1969.
Budapeshtskaya Street 30-2
Frunzensky District Palace of the Chilsren and Youth Creative Works (previously a Palace of Pioneers and Schoolchildren). For more than 30 years chess life here has been directed by A.G.Karpov, A.M.Batuev's pupil. The most well-known graduate of this palace is master P.G.Martynov, a participant of several city championships (5th place in 1984, 4th place in 1989).
Fuchika Street 15
In October 2001 in the Trade Union University of the Humanities took place G.K.Kasparov's great press conference and simultaneous display.
Ligovsky Avenue 237
Here lived N.Z.Chernova (née Gerasimova), a 1974 champion of Leningrad.
Tambovskaya Street 8
In this house lived master V.V.Varlamov (1947 – 1995), a participator of 9 city championships (shared 5th and 6th places in 1976).
Sedova Street 17-2
Here lived master V.P.Artsukevich (1935 – 1991), who had twice played successfully in the Leningrad championships, sharing place from 3rd to 5th both in 1959 and 1961).
OlgiBerggoltz (Martynovskaya) Street 18
Here lived L.V.Ageeva (1907 – 1942?), a runner-up of the USSR women championships of 1927 and 1934, champion of Leningrad in 1933 and 1934.
Obukhovskoy Oborony Avenue 95-1
In this house lived S.A.Agrest (née Pesigina), a bronze-medal winner of the 1986 Leningrad championship.
Babushkina Street 56-2
Nevsky Disrtict Left-bank Palace of Pioneers and Schoolchildren (now Palace of Youth Creative Work). For years chess classes there had been directed by V.V.Krishtal (1936 – 2005), the author of the booklet "The Improvement Of The Chessplayer's Style Of Play" published in 2002. Among his pupils Zh.Shur is to be mentioned first of all, who has been a 1989 girls' champion of the USSR and a prize-winner of the city championships in 1993, 1994 and in 1997.
Obukhovskoy Oborony Avenue 195
In summer of 1994 here in the congress hall of the "Rechnaya" Hotel a tournament with a GM norm was held (1. Svidler).
***
Our 7th tour is over. The next and the last one will deal with all the right-bank districts, except for Petrogradsky and Vasileostrovsky ones. K.N.Aseev, S.V.Ivanov, the "Karelia" Hotel and many other people and places. Meet you on Pirogovskaya Quay.
---