16.05.2007 GM'S ALEXANDER PANCHENKO INTERVIEW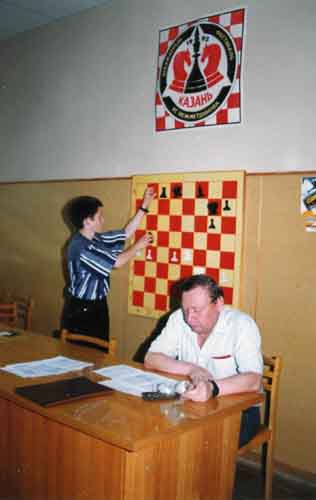 A.N. Panchenko, Kazan, 1998, Artyom Timofeev is at the board
Alexander Nikolaevich, several months ago Panchenko's School has celebrated its 25th anniversary. Please tell how your school was established?
The idea of establishing the All-Russia Chess Grandmasters school (ACGS) belongs to Vera Nikolaevna Tikhomirova.
In September 1980 I became a winner of the Chigorin's Memorial in Sochi and scored the second IGM qualifying point. I was in finest of moods – after having won one of the great international tournaments my prospects were really bright.
Once when I, my wife and Yuri Balashov were having lunch, Tikhomirova came up to us and ask me for a talk. Vera Nikolaevna told me that we had to think of the younger generation and offered me a job as a coach in the soon-to-be-opened All-Russia Chess Grandmasters school.
To say that this offer has been unexpected is to say nothing. I was 27 then, and I was on the rise as a chessplayer. I had quite well-founded plans of sportive career.
And here you are, quite a new business! I had neither coaching experience nor knowledge of pedagogics or age group psychology. Still, after some period of hesitation, I agreed and became engrossed into preparation work on the establishing the school.
To solve the questions of organization took us about a year. In winter of 1980-81 on the congress of the Russian chess federation Vera Nikolaevna announced the coming opening of the school and admission of the students.
The delegates of the congress from all Russia made a huge number of applications. We could not accept so many students, so I asked Tikhomirova to blindfold me and marked the then unknown names with a pencil at random.
In that way 30 players born in 1967 or even younger were chosen. We manned the coaching stuff of the school, which included 6 coaches and a doctor.
Before the first session I had to get to know much. I had to read heaps of books on pedagogics – Korczak, Makarenko, Sukhomlinsky, Ouspensky. I consulted the coaches and teachers of authority. I recalled my own student experience.
The first ACGSsession was held in Cheliabinsk from 11th till 25th of November 1981, in the building of a former church.
Please tell how the classes have been going on in school.
At that time in the USSR the well-known authoritative schools of Botvinnik/ Kasparov, Geller, Petrosian, Polugaevsky, Smyslov were working successfully. Many talented young Russian players of candidate master level had already been studying at those schools.
Our newborn school would have to do a systematic job of finding and developing gifted children all over Russia.
We were very lucky in coaches. In our school A. Beletsky (Kostroma),D. Volovik (Sverdlovsk), M.Getmanchuk (Cheliabinsk), E. Gleizerov (Bryansk), E. Tyulin (Vladimir), А. Filipenko (Izhevsk) were working selflessly. The subjects were varied, and intensity of studies was very high during the whole working day.
But chess and pedagogics is not everything. Great attention was paid to general fitness conditioning. Dmitry Volovik knew and understood its questions very deeply. Physical loads were dosed out very rationally in order to mobilize the students and let them learn the material well.
We used to meet our students two times a year, each session lasting a fortnight. This limited us in some measure. During those short periods of time we had to give the students the really most important information.
Attention and even self-denial were required of students as well – to learn a great deal of professional information, to understand and feel it deeply was not easy at all.
The individual coaches of the kids were always present at our studies. They also learned something, got the copies of lectures for themselves. We hid nothing, telling everything we knew and were able to do.
We laid special emphasis on studying the endgames. In this we were guided by the ideas of Capablanca and Smyslov: "In order to understand the secrets oh chess game one has to begin with the endgame".
After the end of a session the students were given an extensive homework. We had managed to establish the relations of trust and friendship with the coaches of out students, and we cooperated rather effectively, supplementing each other.Between the sessions we were constantly in touch by correspondence. Students would send their games to us, ask us questions, and consult with us about their problems. As a result both coaches and students were advancing professionally.
The atmosphere in school was very friendly.
When did the first successes come to the school?
In 1984 году seven students of our school made the team of Russia for the Schoolchildren's Spartakiad in Tashkent, the whole team roster having been composed of 8 players. That was the first important success for us.
In 1985 Maxim Sorokin became the first master raised in the school. In 1987 Alisa Galliamova also became the master while being only 15 years old, and Svetlana Prudnikova was the runner-up in the U-20 Girls world championships in Vilnius in 1986 and in the Philippines in 1987.
In those years the best experts on the openings in Russia for that times – Alexander Filipenko and Evgeny Gleizerov – began to take part in the school activities. Both well-educated and intelligent persons, they helped to bring many of the students up to the Grandmaster level. A little later one of the best Moscow players Sergey Kiselev had also become a member of the coaching group.
In1989 Alisa Galliamova became our first Grandmaster.
We kept on working with the students during competitions. In the end of 1980ies the school alumni managed to qualify for the all-USSR events, Junior European and World championships for boys and girls.
Gleizerov, Filipenkoand I often had to change all our personal plans and to accompany our students to the tournaments.
After first important successes the recognition came. The students from Azerbaijan, Georgia, Ukraine began asking to join the school. In this way, for example, Anjelina Belakovskaia from Ukraine came to us. Once Elena Akhmylovskaya came to us to do some work and play the match against Galliamova. She used to live in Georgia then and was at the peak of her career.
You have become a well-known coach quickly enough despite the lack of pedagogical and live's experience. Please tell in more details how did you manage this.
I've been lucky. My coach in Cheliabinsk was the Merited coach of Russia Leonid Aronovich Gratvol, a natural-born teacher. I could have talked about him endlessly.In will be enough to say that he had brought up Gennadij Timoscenko, Evgeny Sveshnikov, Semen Dvoirys, Tatiana Shumiakina, many other well-known masters, worked with young Tolya Karpov.
I just had to recall how he had been working with us, and tried to follow his advice.
In the 1960ies on the all-Russia level an outstanding coach Viktor Evgenyevich Golenischchev had been working with us. He had managed to create an excellent coaching group.Sergey Rubenovich Asaturian took it upon himself to work with younger children and assumed managerial responsibilities. Avgust Semionovich Livshitz prepared homeworks, corresponded with the students and generally helped Golenischcheva lot.
Of course, the working tone was set by Viktor Evgenyevich himself. Golenischchevschool was usually held in Vladimir and it was excellently organized. Igor Zakharovich Bondarevsky and Boris Vassilyevich Spassky would quite often take part in the studies. The careful guardian of the school was Vera Nikolaevna Tikhomirova.
Golenischchev had worked out a very fine system of coaching the young chessplayers. The work of our school was based upon his system. We were trying to keep up the traditions of V.E. Golenischchev's school.
Viktor Evgenyevich had written some very fine books – the programs for preparation of chessplayers of the categories from 4th to 1st. In spite of having been reissued repeatedly, they are hard to come across now.
The work of our school and my own books have, to some degree, extended the Golenischchev's work on coaching chessplayers up to the level of Master of sport.
You said that you'd managed to find the mutual understanding with the individual coaches of your students. Would you mind giving us some details on this matter?
From the very beginning we had found the way to work harmoniously with our students' coaches.We explained to them that all the credits for bringing up the students were theirs. Coaching categories, titles, awards, and honors – all this went to individual coaches. We would only join in at the coach's request during the most important and difficult competitions.
The School contributed to the professional growth of coaches as well; many of them had raised their coaching categories. Several coaches were awarded the title of "Merited coach of Russia" for their outstanding successes.
It was important, as the coaches' salaries were rather modest.
We would help the coaches as much as we could, and they would pay us back in kind working for our common cause with full efficiency.
This coordinated work of like-minded persons bore fine fruits. The students were growing, bringing much joy to their coaches.
We shared our experience, our methods of teaching; we used to be invited in the different corners of Russia. I hope all this contributed to the development of chess.
In what ways did you cooperated with RSFSR Chess federation?
Our school was established due to Vera Nikolaevna Tikhomirova. Vera Nikolaevna put much effort, energy and talent into it.
After Tikhomirovahad left the Federation, Russia State coach K.S.Ogandjanian carried on the work. Karen Sergeevich cared for the School and her students very much, carefully considering all our problems and always helping us. He used to accompany our team to the competitions charging us with his energy and rooting for the School with all his heart.
He did all he could for us. Without Tikhomirovaand Ogandjanianthe School will never come about.
Regretfully in 1992, after the breakup of the USSR, the funds had stopped coming, and we had to hold our last session.
Let us sum up the results of 11 years of School's activity.
I hope that intensive studies and mutual communication in the friendly atmosphere have furthered the professional and personal growth of our students.
About 30 of them became Grandmasters; naturally, there are much more masters and candidate masters.
For many years Alisa Galliamova has been one of the world's elite lady players.
Grandmasters S.Prudnikova, A.Belakovskaia, E.Kovalevskaya, T. Shumiakina, S.Volkov, S.Rublevsky, M.Ulybin and others achieved very important successes in the course of their careers.
M.Sorokin, R.Sherbakov, A.Volzhin became well-known coaches.
What are you working at now?
I have published several books, I write, I coach children and young chessplayers in Tatarstan. Among them I would like to mark out Tamara Chistiakova, Sandugach Shaidullina, Marat Askarov, Artem Iljin.
Artyom Timofeev makes me very happy with his successes and his enthusiasm for his work. I hope for his bright future.
It is very expensive and difficult to organize a large school in Russia nowadays.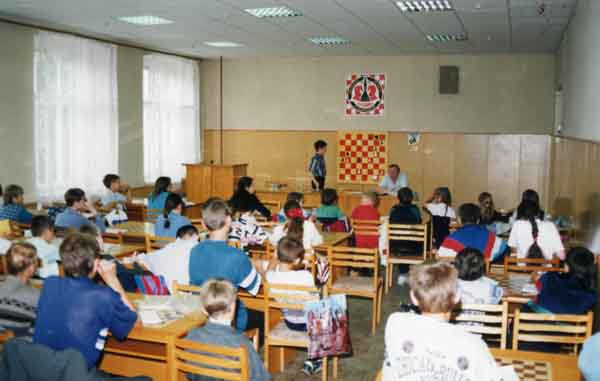 A.N.Panchenko works with children, Kazan, 1998
I dream of opening a regional school in Tatarstan.
The idea of establishing regional schools belongs to Evgeny Ellinovich Sveshnikov, and the life itself has proved him right. The experience of his Altai school and Spassky's school in Satka shows the necessity and usefulness of such schools. We could have taught more children without separating them from their home and school studies. The development of small regional schools is a logical way of chess popularization.
They love chess in Tatarstan, the game enjoys the support here, and it would be very interesting for me to work in the regional school.
The questions asked by Sergej Nikolaev.
---