27.05.2005 Sergei Karjakin: "I can't live without chess"

The world chess Olympiad winner Sergei Karjakin came back to the Ukraine for just one day to visit a prize-giving ceremony "Pride of the country 2004", where he received a prize in the category "Personal achievement". The next day Sergey went to Greece. His next destination was a tournament "World's youth stars" in Kirishi. Our correspondent caught the grandmaster in the morning, before the ceremonial event.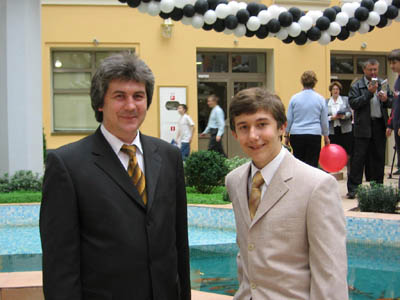 Sergei Karjakin with his father in Kirishi
Sergei, everybody remembers how at 12 you announced that you would become a world champion. Have things changed since that time? Were you right in the estimation of your strength and obstacles on your way?
No, nothing has changed, I still have my dream. However, there are problems with the world championship…I hope they will be solved in the future.
Do you have any plan how to become the first?
I will try to do my best! One needs to work, to make efforts, to increase rating to reach the top. It's not so easy to reach the level of 2700.
Do you plan your life in general? Are you going to study at the university? In the Ukraine or in any other country? Or, maybe you are going to do your military service?
(smiles) I don't want to do military service at all! I will certainly study at the university. But chess is my main interest for today. As for the university…We'll see. I still have to study for two years at school, the rest will depend on the fact where I will be invited to study. Recently I gave a simul in Simferopol - and I was invited to enter the Simferopol University (laughs). If to speak in real earnest I can decide between very good Ukrainian universities. But if I'm invited to study in Oxford, for example… I took a trip there this winter, visiting campus and university. I still have some time to think over.
Sergei's mother: I understand that chess stands first on the list for Sergei. However, it is not difficult to change the occupation in his age…
How do you manage to combine studying at school with professional chess?
I have private tutors. I also arranged an individual schedule at school...
What are you going to do when you will become a champion? Will you give up chess?
It depends on the way of winning. It is one thing to be well ahead of the others and another thing is to be the first among equal. Kasparov retired from chess after reigning for 20 years…
You were a witness of Ponomariov's crisis. Why Ruslan can not return to the level he showed on FIDE championship in Moscow? What happens to him?
His results became much worse after the breakdown of the match with Kasparov. He is in search for his play now, but I'm sure that he has not said his last word yet.
Do you meet him frequently?
For example today we will go together to the ceremony of awarding the prize "Pride of the country"! I am one of the nominees and I invited Ruslan as it will be more fun to be there together!
Does Kramnik's situation have the same background?
It's hard to tell. I can not contend that he has lost his motivation, but his rating decreases. I don't know why.
How can such crises be avoided?
There is no clear formula. One needs to be eager to win. And to win.
Chess is changing now. What are the main changes from your point of view?
Computers made chess more precise. In sharp positions the evaluation "better" or "worse" does not exist anymore, the analysis is always accomplished. Some endgame positions are re-evaluated, methods of play are specified. Endgame technique requirements became more rigid, especially in case of the FIDE time-control, when by the end of the game there is no time to think, you should just play by hand, using your knowledge of particular positions and main ideas. But one still has an opportunity to approve oneself. Each chessplayer has his own style, which makes chess interesting.
Do you think that chessplayers should study games of Tarrasch, Capablanca, Alekhine? How can a modern player benefit from the classical heritage?
Yes, this is really useful. You will not just understand the way great chessplayers used to play and enrich your knowledge – you will also understand the way chess was developing, their prospects. I think it's very important for a practical player.
Whom of the today's chessplayers you can call classics, whose games will be of great value in the future?
All chess elite. Kasparov had been the strongest for 20 years, he showed a brilliant play. Kramnik managed to defeat him in the match. Topalov is one of the most intransigent players of the present… Of no doubt, they are all classics.
What do you mean by "elite"? "2700 club"?
I think the required rating is even higher. Many chessplayers of 2700 can't compare to the level of Kramnik, Anand… Judging by rating, elite is 2750 and higher.
What fascinates you in chess? Do you enjoy studying?
I love chess since my childhood. I entered a chess school when I was under six. On the next day after the first lesson I told my mother that I can not live without chess…It's interesting to study as well, but the main motivation is winning.
You are fond of winning not only in chess, probably?
Certainly! I like playing football, tennis, ping-pong. Computer games as well, strategic ones – Heroes of Might and Magic 3, for example.
How do you prefer studying – by yourself, with a computer, with a trainer or with your fellow chessplayers?..
With a trainer, of course. It's very difficult to organize yourself when you are alone – there is TV and other temptations… It's much more effective for me to study with someone. Unfortunately I don't have a permanent trainer for the moment.
Konstantin Sakaev considers development without assistance to be more useful in a way – you are getting used to use your own head…
Everything depends on a chessplayer's level. If your level is 2500 or lower, you can hardly do without a qualified trainer. And when your rating exceeded 2600, it's not so necessary to have a permanent trainer as you become a professional and you know your goals
Do you usually work with a database or normal chess set?
I try to work over the board as mainly we play over the board in the tournaments. And when you always study positions on the computer screen, you are getting used to the computer tips.
What chess books do you read?
I've read a lot of them. My favorite one is "New-York super-tournaments of 1924 and 1927", it was my manual for many years. Alekhine was my chess idol in the childhood. But now when I go through those games I realize that in some positions I would play differently. Now I don't have any idol.
Would you have defeated Alekhine if you had had an occasion to meet him?
(Laughs) I hope so.
Could you tell about your collaboration with Short? He mentioned in his interview that you were going to visit him in Greece…
Short is a classic, a chessplayer of the highest level, and I'm quite young, I'm from another generation. For this reason I think he wanted to get to know me better, to find out who I am, how I play chess, how my opinion differs from the one he got used to etc. In my turn, it's very interesting for me to communicate with such a player.
What is your greatest success?
They are a few. I became a junior world champion (under12) at 11, then I became the youngest grandmaster in the history. But my main success is Olympiad. Our team won gold medals and I scored 6.5 out of 7 on the 4th board, having the best performance among all the participants. It's especially difficult to achieve such a result in the team – as one needs to be careful not to disturb the partners, you are afraid to take risks, that's why you play a bit frigidly, also you can not get away from the position of your team fellows, hence an unnecessary nervousness…That's why I tried not to look aside and play according to the position demands, and everything went in the best possible way.
What are your most memorable games?
A victory over Kramnik in a rapid game remains in my memory as well as a draw with him in a classical game, in which I missed a win in the ending. I've learned a lot from it.
Are you satisfied with the present political situation in chess? Will you try to change it if you will reach the highest level?
As every professional I would like to see a more stable situation. Many tournaments are not carried out and I don't know why. Chess is a very interesting game after all! I don't think it's more difficult to play football or basketball, that's why it's vexatious that chess players' remuneration differs considerably. I will try to do everything possible to change the situation. Though, this is certainly not my business. But if those, who are entitled to deal with this, do not cope with the task, chessplayers will have to act on their own…
Kasparov mentioned your name along with Carlsen and Nakamura, when he was speaking about his successors. Did such an authoritative appraisal change your view of life? Doest it rest extra responsibility on you – maybe you have to change your conduct to "correlate with the image"?..
It invigorates me. It's pleasant that I'm not the only one who has faith in my potential. I'm not going to change my behavior; I try to be myself.
Can you tell about the chess situation in the Ukraine?
The situation is in the clutch. For example after winning the Olympiad each player was given $2000 minus taxes. In my opinion such an award is not in tune with the level of our success. Talented chessplayers appear in the Ukraine regardless of rather than owing to the chess federation activity. We need to have more sponsors ready to support talented players, send them to strong tournaments, and then the level of play will shoot up.
What about Kramatorsk?
There was a perfect school, we were taught by the strongest chessplayers and trainers of the Ukraine. But many left there after the death of Mikhail Nikitovich Pononmariov, not excepting myself…
Do you think that the Ukraine is ready to give a dare to Russia in the struggle for the title of the first chess power?
On the one hand Russia has much more strong top ten players. Something like 2700 against 2620. But I believe that we are able to win the next Olympiad. However, everything depends on the conditions that will be proposed by the Federation. If there are no changes for the better, we won't have such a line-up, I'm afraid.
Sergei's mother: Sergei did not mention that we do not have sponsors at all. Training and traveling are at our own expense. We took the issue of going to the European championship in Poland to the Federation. Poland seems not to be at the other side if the world, but they made it clear that the chances of a favourable decision are slim. I know it perfectly well, that young chess players are supported in the other countries. Carlsen has enough sponsors in Norway if they are going to get Kasparov to train him... Many young Azerbaijan chessplayers enjoy a serious support. Unfortunately, we don't have any assistance in our country...
Questions were asked by Misha Savinov.